ROHO AirLITE Wheelchair Cushion
The ROHO AirLITE is unlike any cushion you have ever seen. Designed for comfort and peace of mind, the AirLITE combines the benefits of a sealed air support pad and a durable contoured foam to provide postural support and optimal durability.
INCLUDES: AirLITE cushion, cover, operating instructions, product registration card. The AirLITE must be used with the supplied cover.
WARRANTY: Cushion: 24 Month Limited. The warranty does not apply to punctures, tears, or burns; nor does it apply to the removable cover.
WEIGHT LIMIT: 136 kg (The cushion must be properly sized to the individual.)
WEIGHT: from 1.0kg (varies depending on the size of the cushion)
Documentation
Roho AirLITE Brochure (0.15mb)
For Hygiene Reasons This Item Is NOT Returnable
PRE ORDER ITEM
To allow us to offer all the sizes/options available, this product comes direct to you from the manufacturers. Please select your options below and press the preorder button to add this to your basket and checkout as normal. We will notify you once your product/s are ready to ship. Express shipping is not available for this item.

Low Risk, Active User
---
AirLITE…comfort, durability and positioning in one simple package…the solution that others can't match.
The AirLITE Cushion improves the ability to transfer by lowering the front and middle of the cushion 3/4 inch (2 cm), while keeping its strong positioning capability by deepening the leg troughs. The lower height also contributes to a greater feeling of security in the chair.
The non-adjustable pre-set air support pad, uses patented ROHO AIR FLOATATION Technology, while a contoured high density foam base positions the body in a comfortable position, creating one of the most effective and easy-to-use cushions on the market today. And at only 2 pounds, it continues the tradition of lightweight products from The ROHO Group.
Who Can Use the AirLITE Pressure Relief Cushion?
Based on clinical, scientific or engineering evidence, this product may be suitable for individuals who:* (with appropriate nursing and guidance):
be at risk for skin/soft tissue breakdown
have normal sensation
require increased stability
require lower extremity alignment
need a lightweight, non-adjustable seating system
require a more stable environment for transfers
*This list of indications is for guidance only and does not constitute a medical opinion. Please consult your GP, consultant or physiotherapist in order to obtain a medical opinion as to which pressure relief cushion is most suitable for your requirements before purchasing.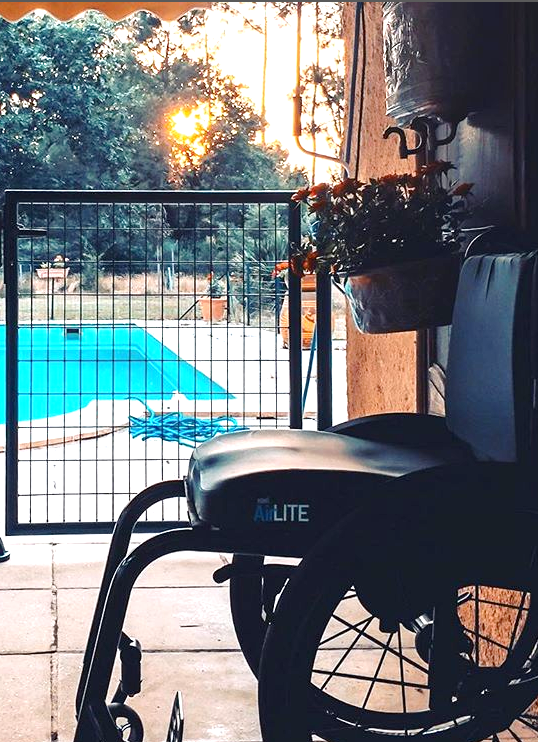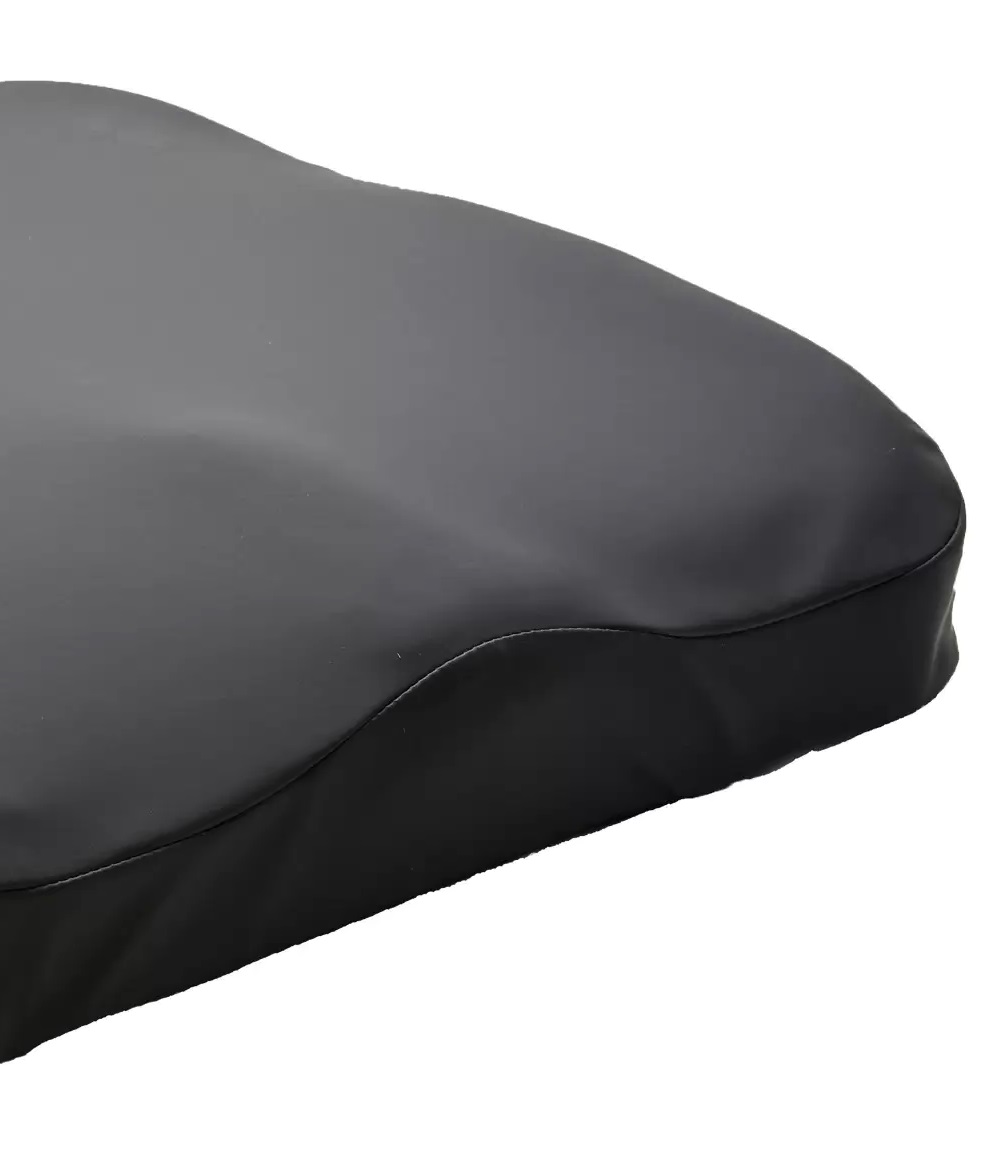 "Bottom-Out" Protection
The non-adjustable ROHO AIR FLOATATION™ air insert built into the cushion under the ischials has been enhanced to provide better bottom-out protection.
Softer Foam
Softer foam allows the cushion to conform to the individual's physiology and provide a more comfortable seating surface.
Durability and Simplicity
The 24 month warranty shows our confi dence in the quality and durability of the product. The AirLITE is an off the shelf, ready to use product. No adjustment is required.
Heavy Duty Cover
The cover design, with full zipper coverage, provides enhanced fl uid resistance to protect the foam. At the same time, the cover is 100% PVC free, reinforcing ROHO's commitment to more environmentally friendly products.
THE FOUR PRINCIPLES OF DRY FLOATATION®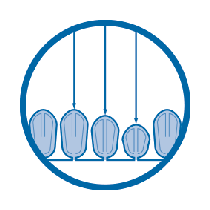 LOW SURFACE TENSION
The ability of the surface to easily yield upon contact.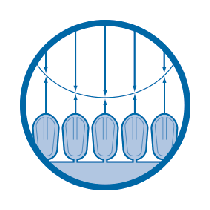 CONSTANT RESTORING FORCES
Fluid flotation provides even and constant forces at all points of contact.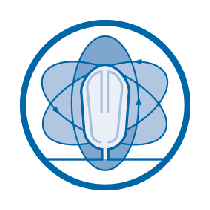 SIX DEGREES OF FREEDOM
The freedom of movement in all directions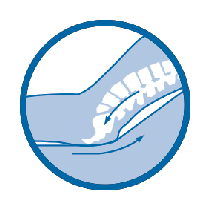 LOW SHEAR & FRICTION
Shearing occurs when opposite but parallel forces meet.
Wide Range, to fit chair widths 15" to 20" (38 cm. to 51 cm.)
Cell height: Approximately 2" (5 cm.) to 3.75" (9.5 cm.) without load. Range is due to contour in cushion.
Lightweight and portable, this cushion minimizes fatigue and is ideal for the active individual. 1kg (weight varies by size).
Reactive force across all contact area.
Cushion is easily cleaned with soap and water Cover is machine washable
Construction: Flame Resistant. Neoprene Rubber
Here at Spokz our emphasis is on value for money and customer service. We now offer free standard UK delivery on orders of over £50 to mainland UK and free over £100 to the Scottish Highlands and Islands, Jersey, Guernsey and the Isle of Man.
When delivery is charged, it is our policy to only charge you what it costs us to post and package your item/s. Delivery costs are calculated per order and will be shown at the checkout stage. We use EVRI for our standard delivery which takes 3-5 days to mainland UK and may take longer to other destinations, and DHL for express delivery which is 1-2 days to mainland UK and 2-3 days to the Scottish Highlands and Islands, Jersey, Guernsey and the Isle of Man. 95% of express delivery mainland UK orders arrive the next working day.
All express shipping orders placed before 11.00am will be shipped the same day and will be delivered within 1 to 2 working days
PLEASE CONTACT US BEFORE PURCHASING IF OUTSIDE UK.
Item not arrived?
Most of our items are sent through EVRI and DHL. Generally speaking they will leave a note if they have called to deliver and you were not at home. However, we know of several cases where this has not happened, so please ring your local delivery office first to see whether the item is there.
Please wait for the appropriate delivery time to pass before contacting us about an item which has not arrived.
If your item does not arrive within the specified times then it is our responsibility to find your item. Please contact us so we can track the shipment and make the necessary arrangements with the couriers. When the item is more expensive additional insurance will be included in your price.
Damaged or lost item/s?
If your package arrives damaged or has missing items it is imperative that it is either signed for as damaged or photos are taken of the damaged package. We need the evidence to be able to claim against the couriers and without it we cannot issue a refund or replacement to you.
Desperate for an item?
We try and keep our postage as low as possible by matching EVRI and DHL. Our EXPRESS service is 1-2 days, 95% of these are delivered next day to UK mainland addresses. Please tell us if you need an item desperately and we can offer timed deliveries at an additional charge based on the courier we use at the time.
RETURNS
Not happy with your purchase? No problem...
You have the right to cancel at any time from the moment you place your online order, and up to 14 days from the day you receive your goods. You need to notify us of your wish to cancel your order within this time period and you can do so by using the My Returns section in your account, by email or by phone. You then have a further 14 days from the date you notify us of your cancellation to return the goods. Sorry we cannot refund postage charges on delivery and return of goods, unless they are faulty (see below). Goods must be returned in ORIGINAL, UNUSED condition. Sex products cannot be returned for hygienic reasons.
**TYRES MUST NOT BE FOLDED IN ANY WAY UNLESS THEY ARRIVED WITH YOU LIKE THIS. FOLDED TYRES RETURNED WILL NOT BE REFUNDED AS THEY WILL BE DAMAGED DUE TO THE METAL BEADING BEING TWISTED**
Faulty goods?
If your purchase is faulty or damaged please contact us within 30 days from date of purchase before returning the item. We will send you a "no charge" replacement, postage free. Before we issue a refund or replacement, you will need to return the damaged product to us for assessment. If the product is faulty we will refund your return postage costs.
All products come with a 1 year manufacturers guarantee. Faults MUST be reported within this time otherwise unfortunately we cannot replace the item.
Method of refund?
Spokz will refund your original purchase debit or credit card. Refunds issued will be back in your account in 3-5 working days.