Loopwheels Urban - Wheelchair Suspension Wheels (pair)
Go light, Go Comfortable, Go Anywhere
Loopwheels have developed a lightweight wheel with suspension that works at higher speeds, for everyday use, whatever the surface.
Choosing Your Spring Rate - The springs use hi-tech carbon composite materials and are available in 3 spring strengths (Soft, Regular and Stiff).
These rates will allow you to get the best comfort and health protection for your weight and the typical activities that you undertake.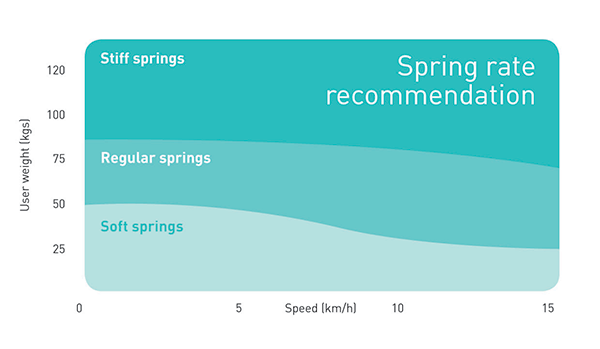 NOT RECOMMENDED FOR USE WITH SOLID TYRES
Options below are per pair, fitted to the wheel.
PRE ORDER ITEM
Due to the large number of options available, this product is made to order. Please select your options below and press the pre-order button to add this to your basket and checkout as normal. From build to delivery is usually 3-4 weeks. We will notify you once the product/s are ready to ship. Express shipping is not available for this item.

Why Choose Loopwheels?
Loopwheels have integral suspension, designed to help you push over uneven streets, rough tracks, grass and gravel paths, with less effort. The carbon springs absorb tiring vibration, bumps and shocks and give you extra power to get up or down kerbs/curbs.
Loopwheels are more comfortable than standard wheelchair wheels and tackle cobblestones & potholes with ease. They absorb tiring vibration, bumps and shocks. Loopwheels fit most manual wheelchairs using standard quick release axles. Choose between 24″ and 25″ diameter wheels, with or without Schwalbe Marathon Plus pneumatic tyres.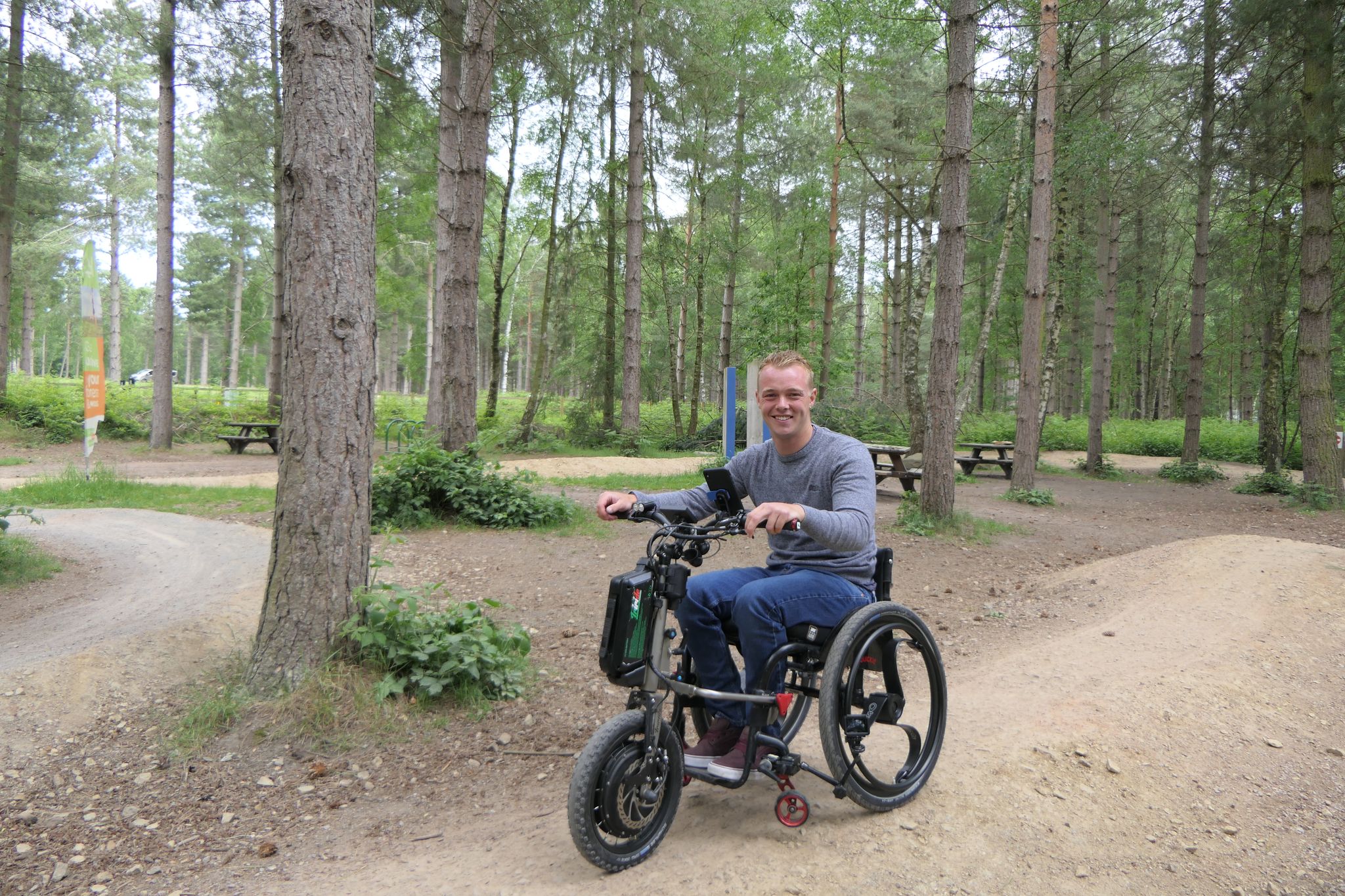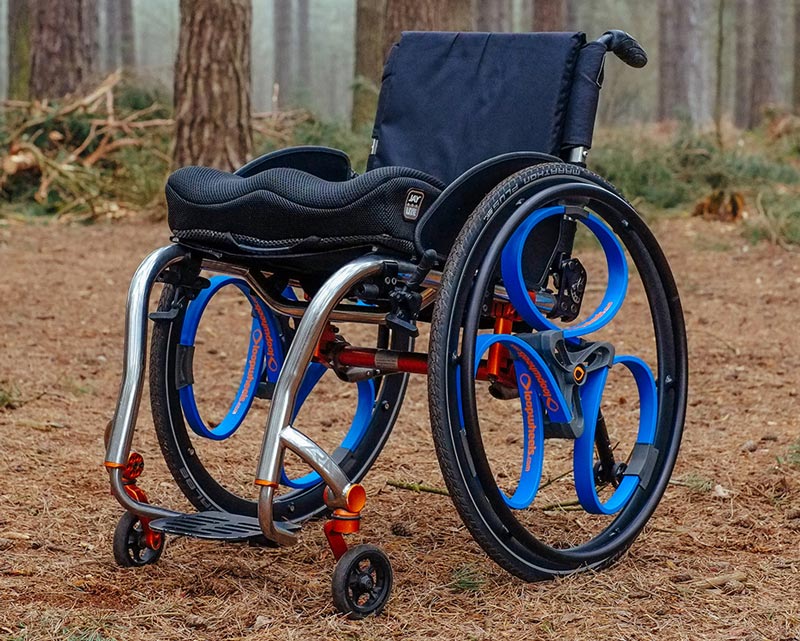 Advanced design, maximum comfort
Loopwheel springs are made from a carbon composite material, carefully developed and tested to give optimum compression and lateral stability as well as strength and durability. Specially-designed connectors attach the springs to the hub and rim.
The three loops in each wheel work together as a self-correcting system. This spring system between the hub and the rim of the wheel provides suspension that constantly adjusts to uneven terrain – cushioning the rider from bumps and potholes in the road. In effect, the hub floats within the rim, adjusting constantly as shocks from an uneven road hit the rim of the wheel.
The spring configuration allows the torque to be transferred smoothly between the hub and the rim.
Loopwheels are optimised for adults. If you weigh less than 50kg, you may not feel as much benefit from the suspension as someone heavier. Try the Loopwheels Urban with soft springs instead!
Please visit our Wheelchair Push Rim page to find out more about the options for the Loopwheels.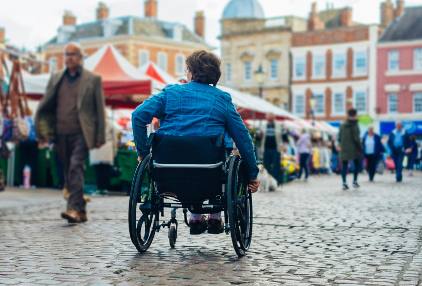 Easily travel over cobbles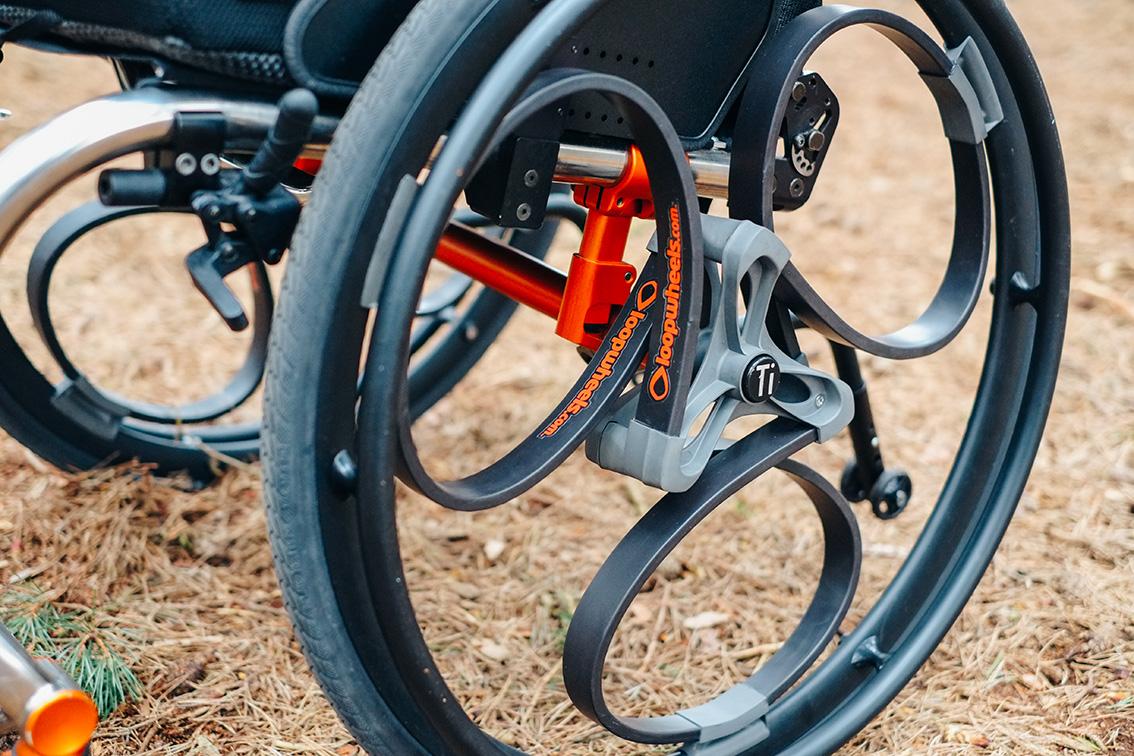 3 loops provide suspension on rough terrain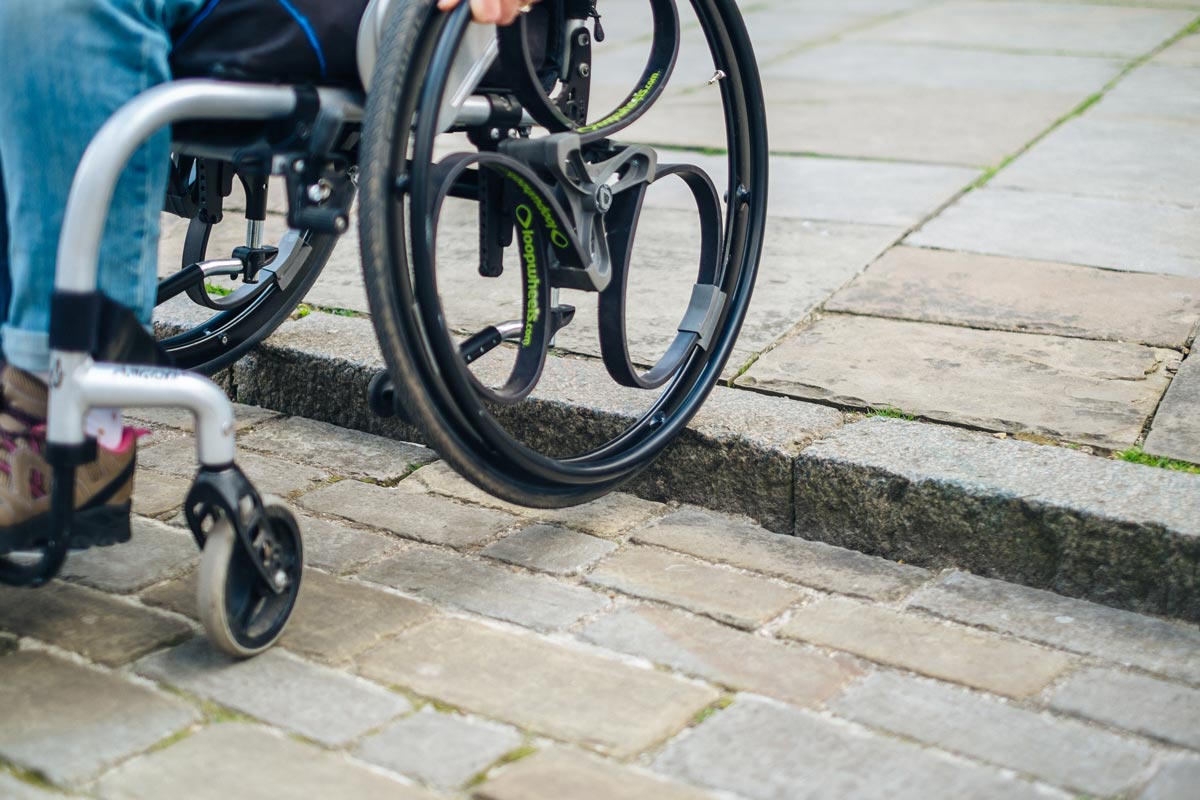 Make dropping down kerbs easier a more comfortable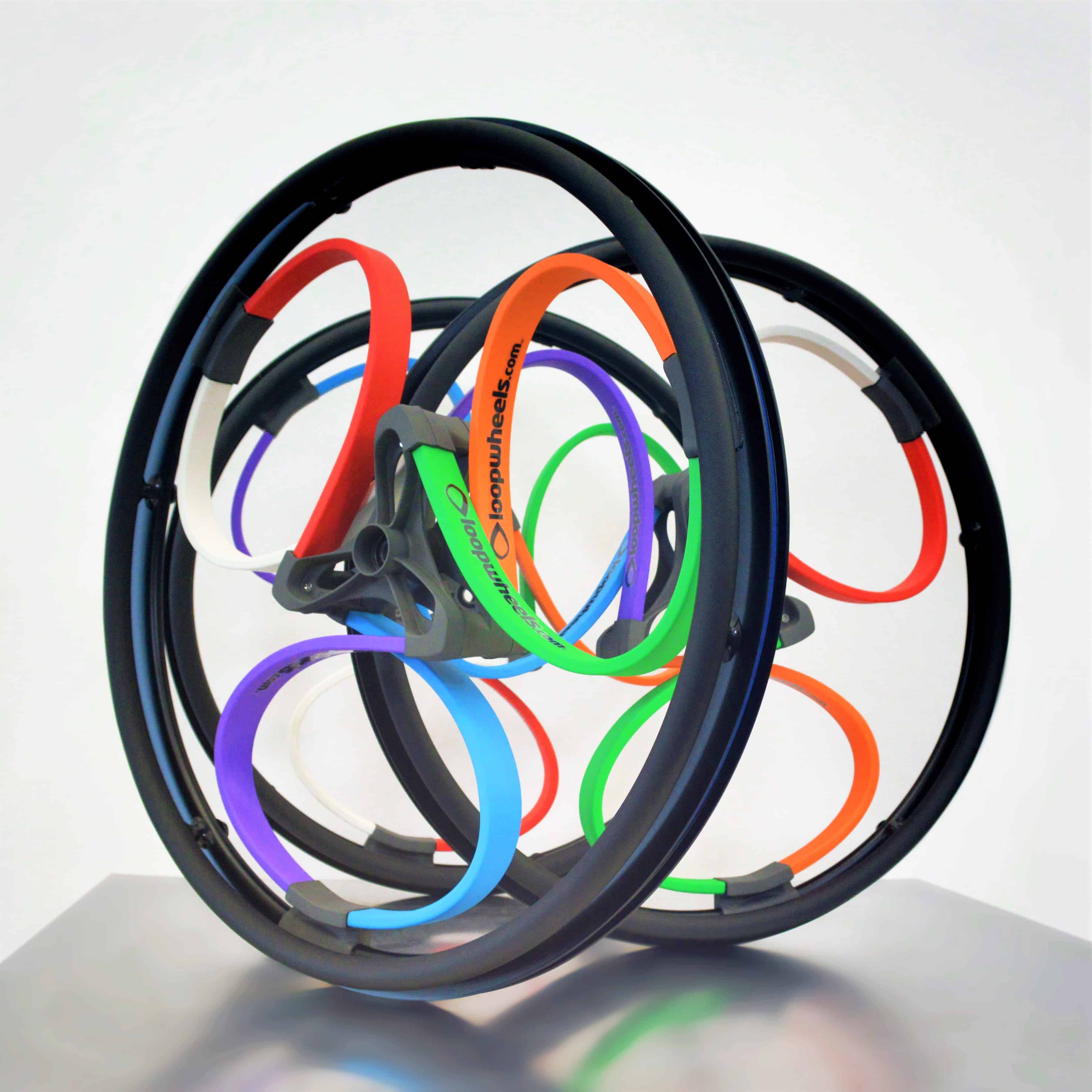 Multicoloured and single loop colours available
Wheel sizes: 24"
Hub Width - 45.9mm
Rim: Double walled aluminium black
Loop material: Carbon fibre composite
Hub: Machined, black anodised aluminium
Bearings: Sealed cartridge bearings; width at faces 1.8 inch (45.8mm)
Standard axle: ½ inch (12.7mm) and 12mm
Weight: 1.33kg
Weight limit per pair: 265lb or 120kg
Minimum user weight - 35kg
Push rim offset - Choose between narrow (11mm) or wide (19mm)
SOLD AS A PAIR
FREE STANDARD SHIPPING
Here at Spokz our emphasis is on value for money and customer service. We now offer free standard UK delivery on orders of over £50 to mainland UK and free over £100 to the Scottish Highlands and Islands, Jersey, Guernsey and the Isle of Man.
When delivery is charged, it is our policy to only charge you what it costs us to post and package your item/s. Delivery costs are calculated per order and will be shown at the checkout stage. We use EVRI for our standard delivery which takes 3-5 days to mainland UK and may take longer to other destinations, and DHL for express delivery which is 1-2 days to mainland UK and 2-3 days to the Scottish Highlands and Islands, Jersey, Guernsey and the Isle of Man. 95% of express delivery mainland UK orders arrive the next working day.
All express shipping orders placed before 11.00am will be shipped the same day and will be delivered within 1 to 2 working days
PLEASE CONTACT US BEFORE PURCHASING IF OUTSIDE UK.
Item not arrived?
Most of our items are sent through EVRI and DHL. Generally speaking they will leave a note if they have called to deliver and you were not at home. However, we know of several cases where this has not happened, so please ring your local delivery office first to see whether the item is there.
Please wait for the appropriate delivery time to pass before contacting us about an item which has not arrived.
If your item does not arrive within the specified times then it is our responsibility to find your item. Please contact us so we can track the shipment and make the necessary arrangements with the couriers. When the item is more expensive additional insurance will be included in your price.
Damaged or lost item/s?
If your package arrives damaged or has missing items it is imperative that it is either signed for as damaged or photos are taken of the damaged package. We need the evidence to be able to claim against the couriers and without it we cannot issue a refund or replacement to you.
Desperate for an item?
We try and keep our postage as low as possible by matching EVRI and DHL. Our EXPRESS service is 1-2 days, 95% of these are delivered next day to UK mainland addresses. Please tell us if you need an item desperately and we can offer timed deliveries at an additional charge based on the courier we use at the time.
RETURNS
Not happy with your purchase? No problem...
You have the right to cancel at any time from the moment you place your online order, and up to 14 days from the day you receive your goods. You need to notify us of your wish to cancel your order within this time period and you can do so by using the My Returns section in your account, by email or by phone. You then have a further 14 days from the date you notify us of your cancellation to return the goods. Sorry we cannot refund postage charges on delivery and return of goods, unless they are faulty (see below). Goods must be returned in ORIGINAL, UNUSED condition. Sex products cannot be returned for hygienic reasons.
**TYRES MUST NOT BE FOLDED IN ANY WAY UNLESS THEY ARRIVED WITH YOU LIKE THIS. FOLDED TYRES RETURNED WILL NOT BE REFUNDED AS THEY WILL BE DAMAGED DUE TO THE METAL BEADING BEING TWISTED**
Faulty goods?
If your purchase is faulty or damaged please contact us within 30 days from date of purchase before returning the item. We will send you a "no charge" replacement, postage free. Before we issue a refund or replacement, you will need to return the damaged product to us for assessment. If the product is faulty we will refund your return postage costs.
All products come with a 1 year manufacturers guarantee. Faults MUST be reported within this time otherwise unfortunately we cannot replace the item.
Method of refund?
Spokz will refund your original purchase debit or credit card. Refunds issued will be back in your account in 3-5 working days.
First impressions...
The Revolutionary Loopwheels
The carbon springs give you extra power to get up or down kerbs/curbs. They're wonderfully comfortable over cobblestones. Potholes needn't be a problem any more!

Loopwheels are more comfortable than standard wheelchair wheels. They absorb tiring vibration, as well as bumps and shocks.
Check out David's case study to see how the wheels perform in the real world.