FreeWheel
The FreeWheel is what you need to easily traverse grass fields, snowy roads and paths, enjoy hiking trails and safely glide down bumpy paths and curbs.
VAT exemption available on this product
Only 4 left
Availability: In stock
Excl. VAT:
£350.00
Incl. VAT:
£420.00
Product Description
Details

Arguably the greatest ever invention for the wheelchair!
The FreeWheel has to up there with the most useful devices ever made for a wheelchair. The FreeWheel is what you need to easily traverse grass fields, snowy roads and paths, enjoy hiking trails and safely glide down bumpy paths and curbs. You no longer have to sit on the sidelines, always ask for help, or miss the fun.

No more looking down at your casters worrying if you're going to come flying out of your wheelchair, the FreeWheel creates a whole new way of pushing that means you can enjoy your surroundings.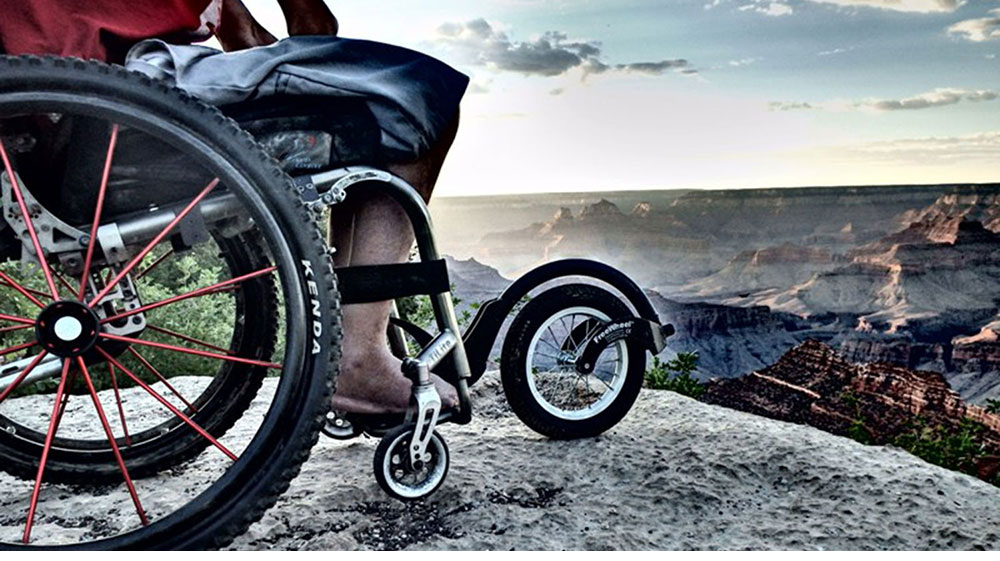 The FreeWheel opens up terrain not possible with a standard wheelchair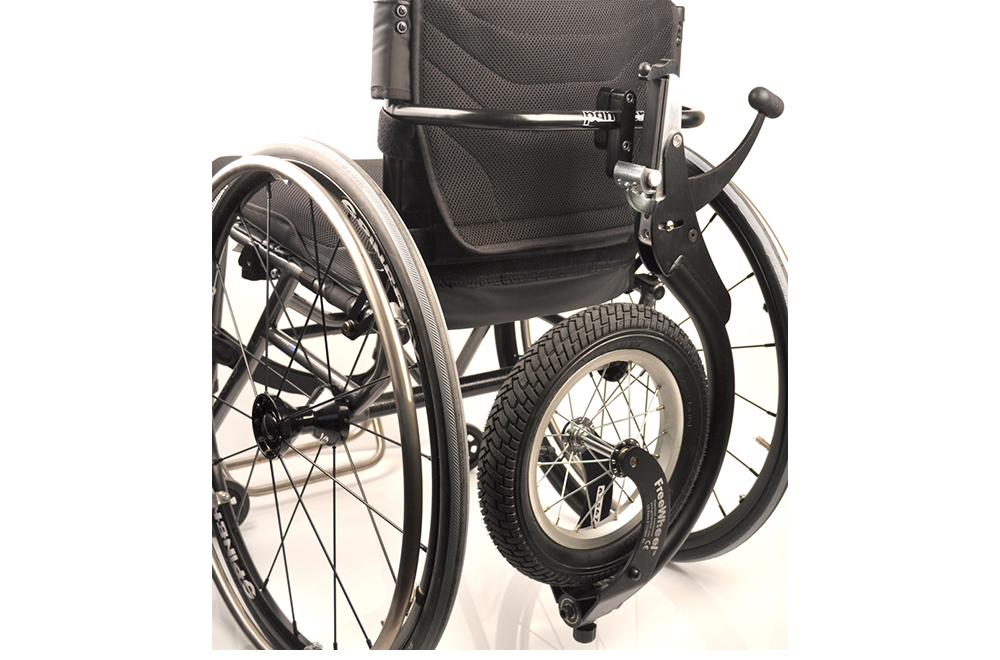 The FreeWheel comes with a clamp to allow easy storage while not in use
Easily attached, removed and stored when out and about
Lightweight and durable, the FreeWheel quickly clamps to the solid footrest of a rigid-frame wheelchair. When you are not using it, you simply store it on the bar on the back of your chair using the included ´perch´ attachment. If you have a folding frame wheelchair check out the Folding Adaptor that will allow the Freewheel to be clamped onto your chair.
Simple, effective and ingenious!
The FreeWheel is one of those devices you should never be without if you are a manual wheelchair user. Whether you are an active user or need a little push, the FreeWheel will change your life. Everything from walking the dog/s, going to the shops, walking through the forest or just being in your garden, it just makes life that bit easier. Don't just take our word for it, check out the reviews, you won't be disappointed!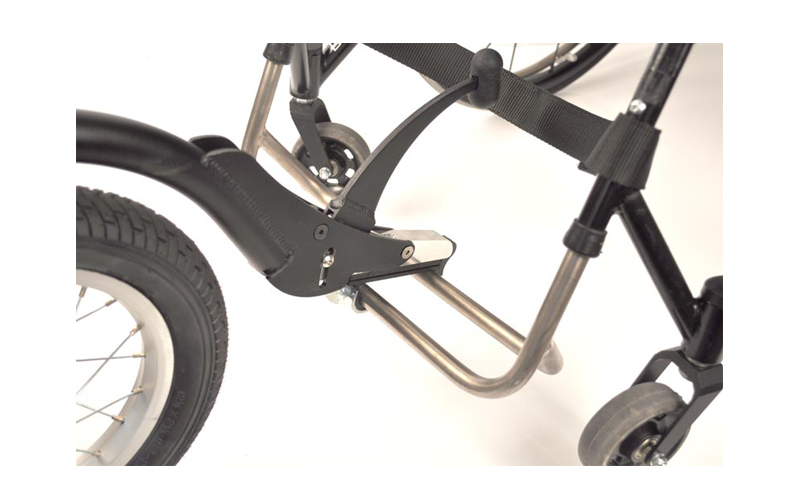 Easily clamps on to various footrests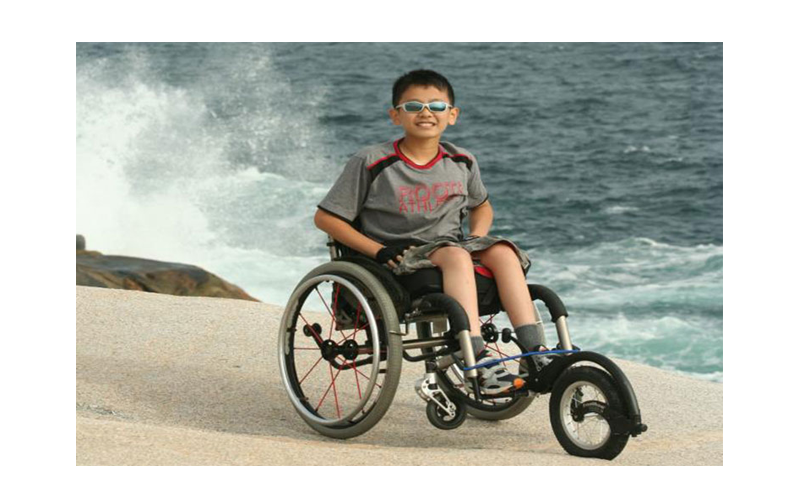 For footrests higher than 120mm from the ground a custom FreeWheel can be made, contact us for details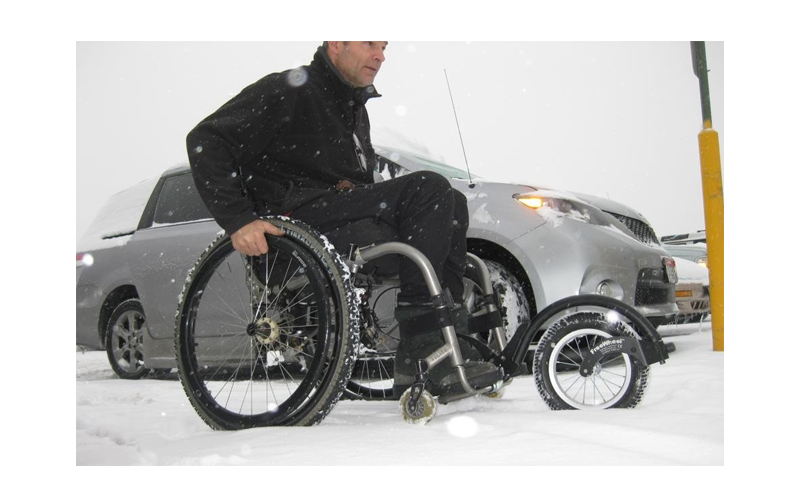 Snow??? Snow problem at all! (see what we did there??)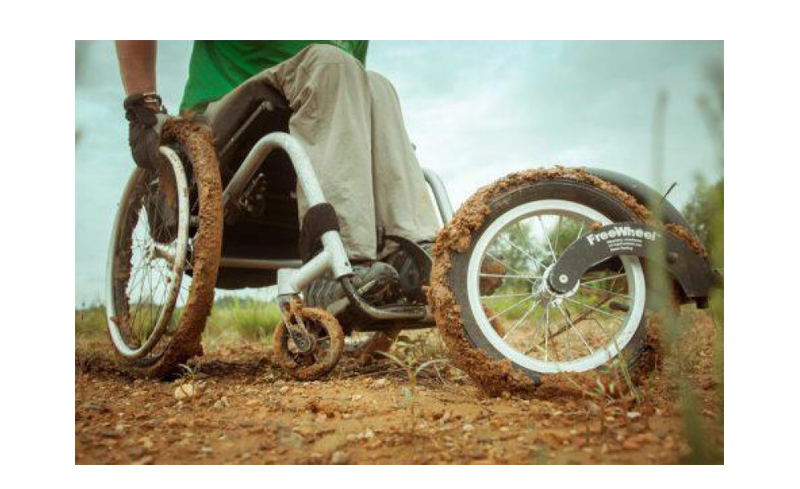 Love festivals but worried about the mud? FreeWheel might just be the answer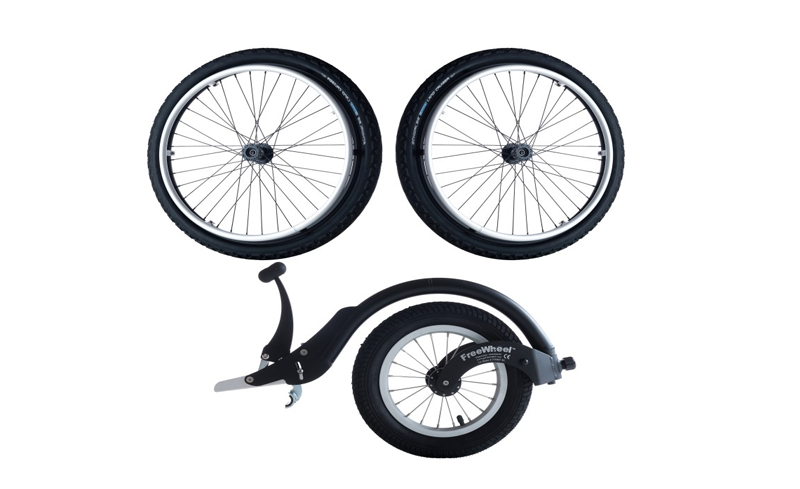 Combine the FreeWheel with our off road wheels (off road pack) to easily transform your chair into an off road beast and save money! Click for details.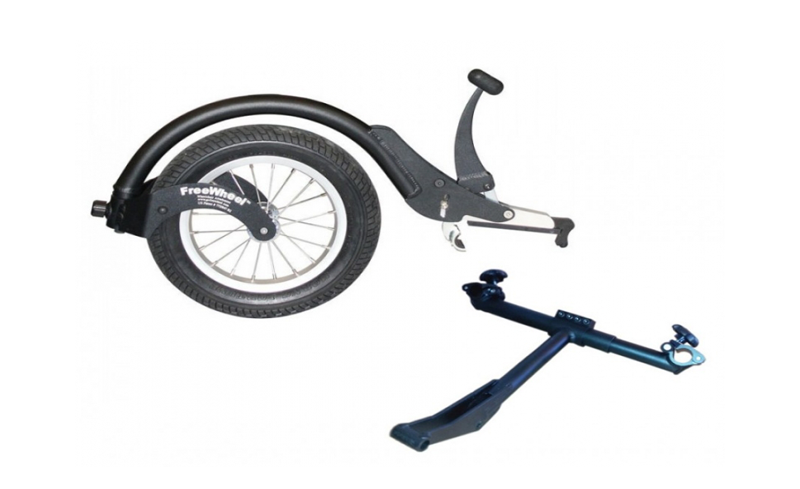 Got a folding chair? No problem, check out our combined FreeWheel and adaptor package. Click for details.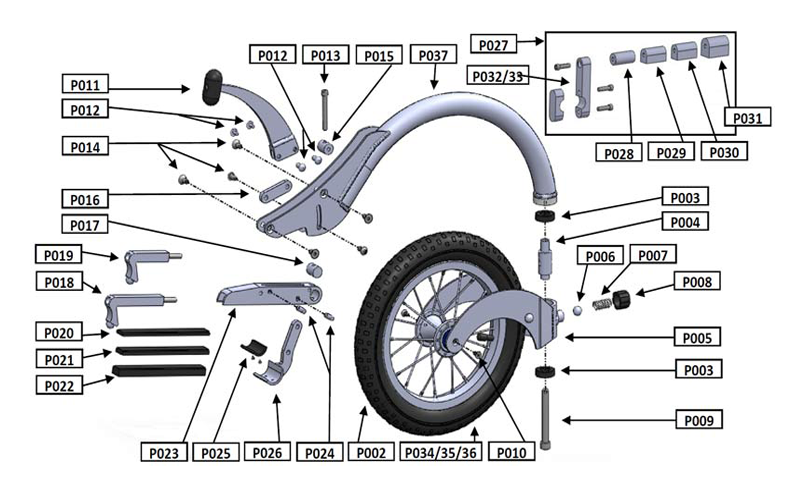 We can provide the full range of spare parts, check out our spares page for details
Characteristics
Characteristics
Made from strong aircraft quality aluminium
Simple clamp design fits quickly and easily
Large front wheel gives smooth ride over rough surfaces
Attach the FreeWheel to the back of your chair when not in use with the included ´perch´ attachment
Footplates with height over 120mm need special frame
Footplates with angles of more than 12 degrees need special frame
Minimum footplate depth 4"
FREE DELIVERY
Reviews
Customer Reviews (6)
amazing

Lowest price I could find on the internet, free delivery, ordered one day and delivered the next, what´s not to like about it!

The free wheel works!
Attach or remove in seconds. Took the dog over the park, pushed through long grass and gravel no problem.

Ticks all the boxes, good product backed up with fantastic customer service!

Thanks Spokz

(Posted on 27/06/2017)

Thanks......

I ordered the Freewheel yesterday & it was delivered today! Amazing customer service & extremely helpful. All fitted to the wheelchair and raring to go!! Yeay!....

....Well I´m just back from a 2hr ´walk´ and it handled fantastically - over potholes, rubble, steep hills, grass, mud, gravel & curbs. If you´re looking for something that ´enables´ you to become much more Independant without the assistance of someone else...then this bit of kit is for you! Thank you Spokz! : )"

(Posted on 27/06/2017)

freewheel review

What a fantastic product,it make going over cobbles,unevenground so much easier .

(Posted on 27/06/2017)

Fantastic !

What a fantastic bit of kit ! I can now "walk" the dog and "run" with the grandchildren and as for Spokz they really do go that extra mile to help everything go smoothly .

(Posted on 27/06/2017)

Should have had 5 stars

A great bit of kit which improves wheelchair handling even indoors, especially on energy-sapping carpet. It fits my elderly Quickie Ti perfectly.

One gripe - the steering detent knob at the front could be easily damaged by bumping into things (it's plastic), and if you have it set quite light - my preference - sooner or later it's likely to come unscrewed and, potentially, lost. That's why it hasn't got 5 stars - no-one in the UK seems to offer spare parts so replacing it could be a pain. A non-setting sealant should keep it in place. Or a strip of black duct tape.

(Posted on 27/06/2017)

freewheel

I recently bought the off road pack from Spokz. The "Freewheel" is just amazing. I've been a wheelchair user for 5 years & only wish I'd bought one sooner. I can now go places I just wouldn't have considered before, over grass , rough uneven ground, even mud, without getting stuck. My advice for anyone who uses a wheelchair is to buy one, it really will transform your everyday mobility.

(Posted on 27/06/2017)
First impressions...
Watch the FreeWheel setup video here......
This video will show you how to setup the FreeWheel on a manual rigid frame wheelchair.

Initial installation may take approximately 15 min, after that the FreeWheel clamps on and off in seconds.