Fusion Wheel - The All-In-One Portable Wheelchair Gym
The only portable gym designed by wheelchair users for wheelchair users. Affordable, portable, simple assembly and easy storage. Designed for all fitness user levels
Upper body workout. Burn calories and build strength without the need to go to a gym or lift weights. The Fusion Wheel comes with a comprehensive training guide which includes over 100 individual exercises.
The all-in-one gym includes:
2 Regular Tension Power Bands
2 Heavy Tension Power Bands
2 Pulleys
1 Bar
2 Dynamic Handles
1 Door Anchor
4 Nylon Loops
1 Stick Guide
1 Manual/Training Guide
1 Carry Bag

WHEELCHAIR USER FITNESS SYSTEM
Workout your body!
---
Get your gym on...
At last, an all in one portable gym for the wheelchair user. Spokz has hunted high and low to bring you another great product specifically designed by wheelchair users for wheelchair users.
The Fusion Wheel attaches quickly and easily to a wheelchair using the supplied 'Fusion T' fittings or Loops, allowing the user to set up the equipment without the need for assistance.
Affordable, portable and compact, the Fusion Wheel all-in-one wheelchair gym removes the need for large expensive pieces of fitness equipment cluttering up your home, which let's be honest, never get used and take up lots of space!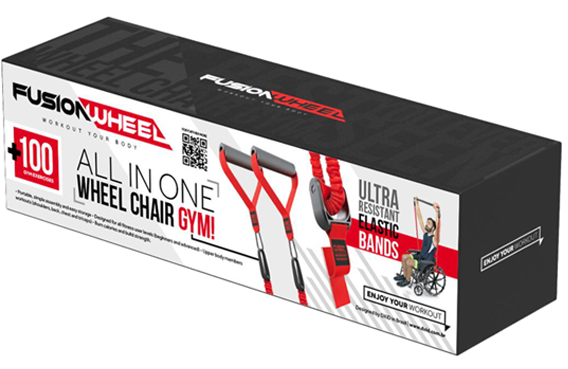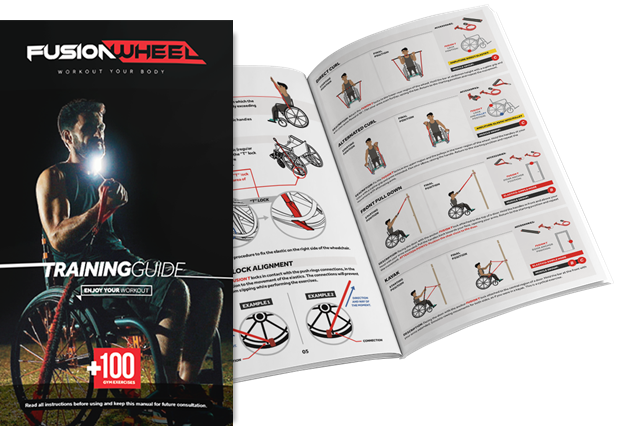 Who needs a personal trainer...
Included with the Fusion Wheel is a comprehensive training and setup guide with easy and clear to read individual exercises for beginner, intermediate and advanced users. The guide includes over 100 individual exercises covering all muscle groups in the upper body and each exercise details which muscle groups are being used, and which accessories are needed per exercise.
We know as wheelchair users ourselves that keeping fit is important but going to a gym is not always straight forward. Even if the place is accessible and has suitable equipment, it often still requires a second person with you to help set the equipment up.
A lot of us also find a gym environment a very intimidating place to be, more so as wheelchair users, so the Fusion Wheel allows you to keep your independence and workout whenever and wherever you choose.
What's in the box...
---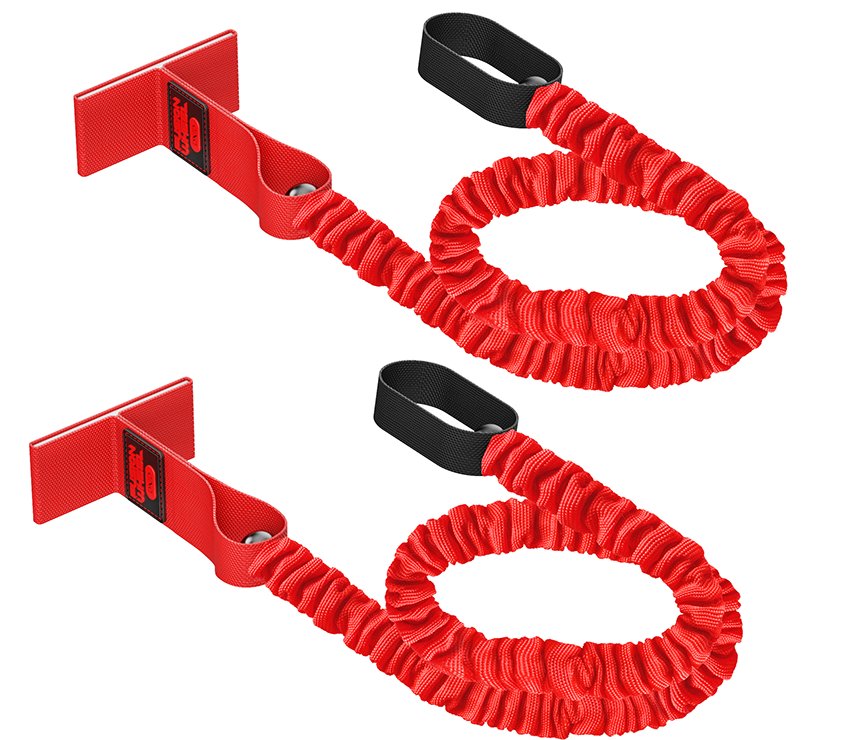 2 Regular Tension Power Bands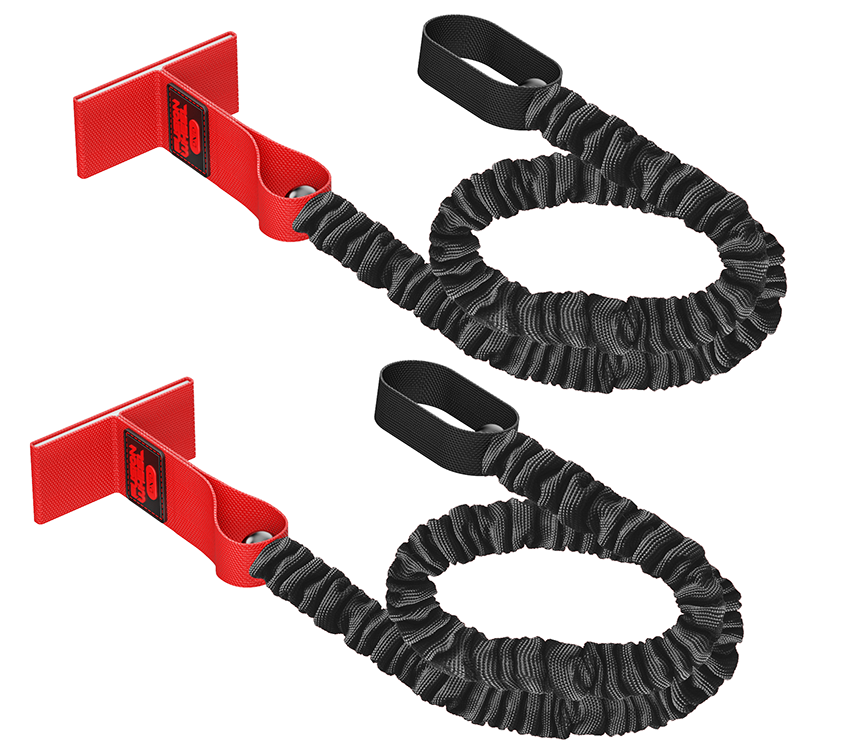 2 Heavy Tension Power Bands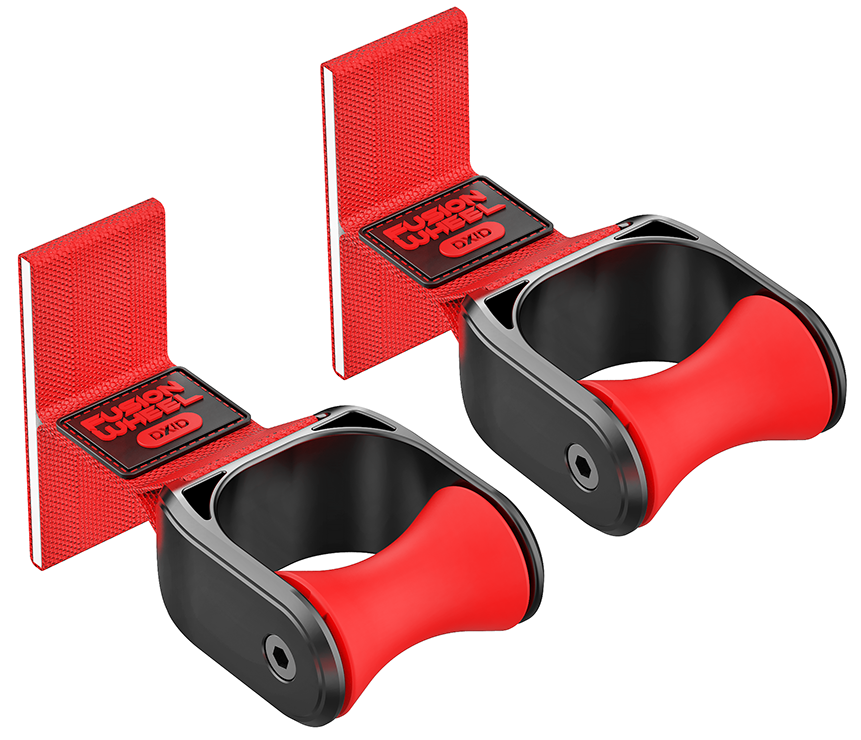 2 Pulleys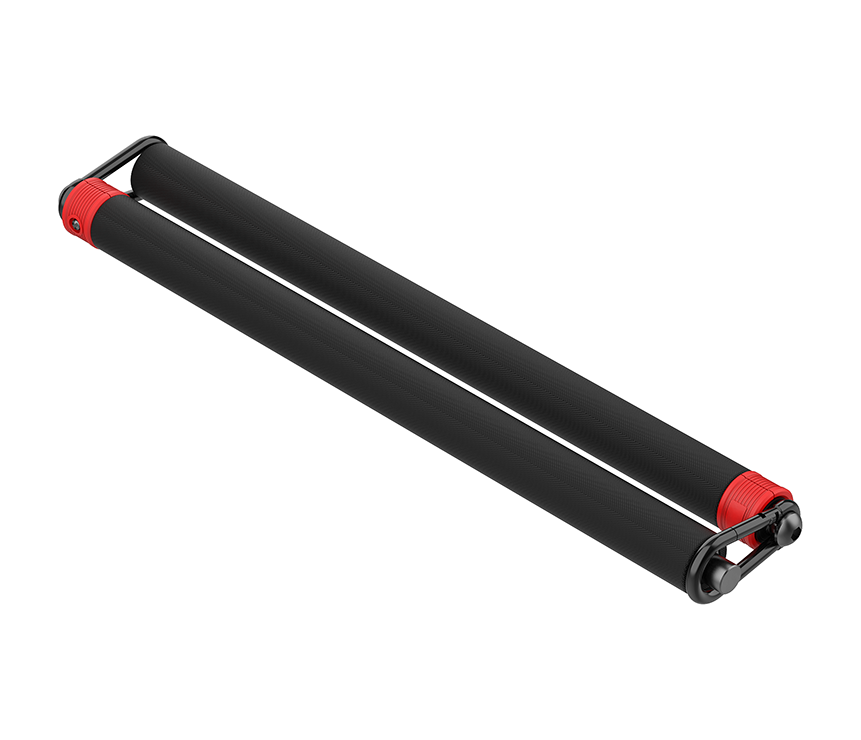 1 Bar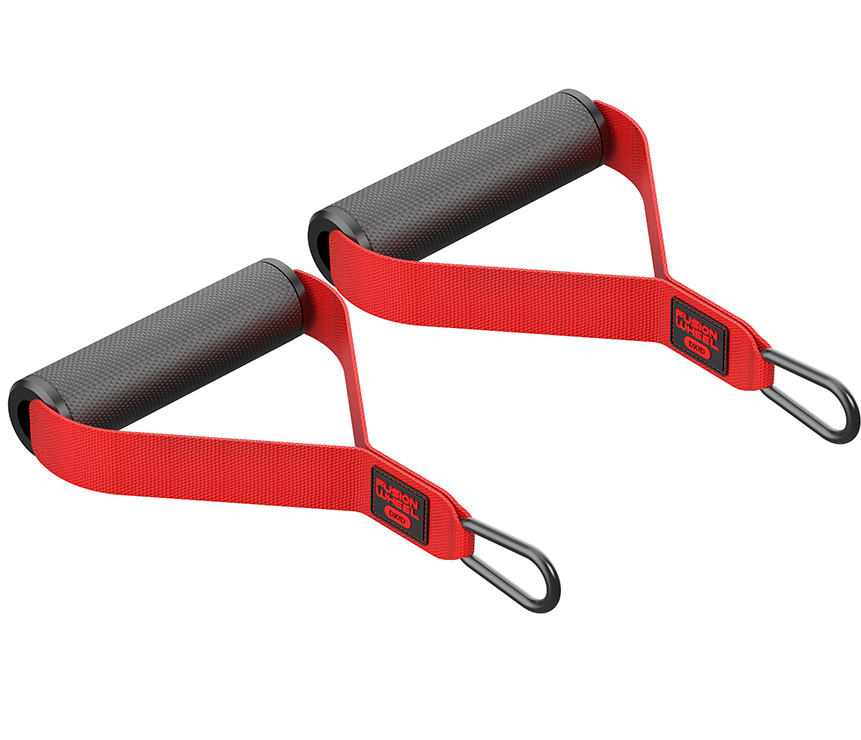 2 Dynamic Handles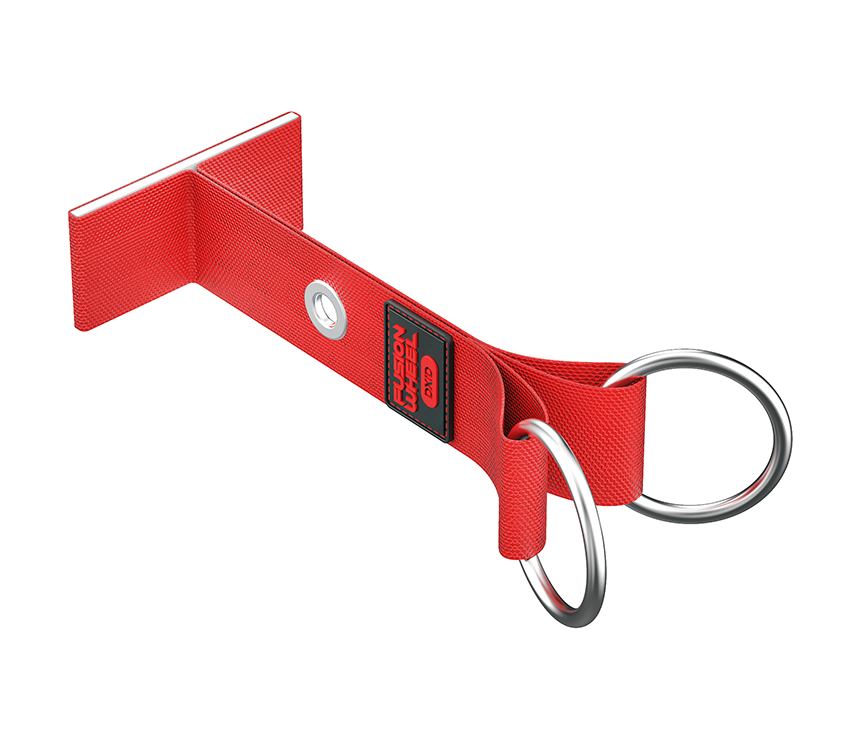 1 Door Anchor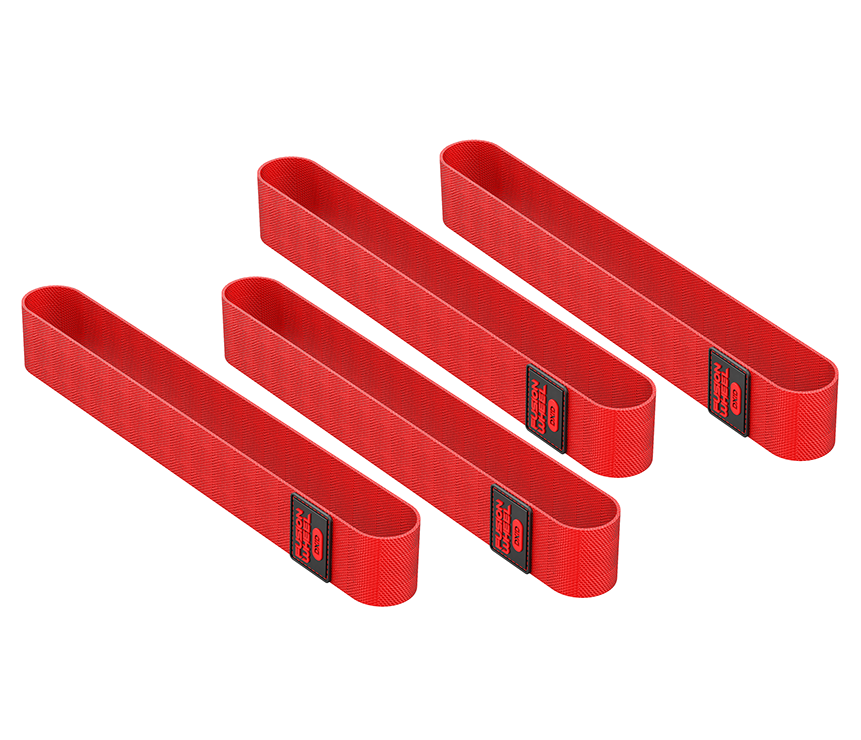 4 Nylon Loops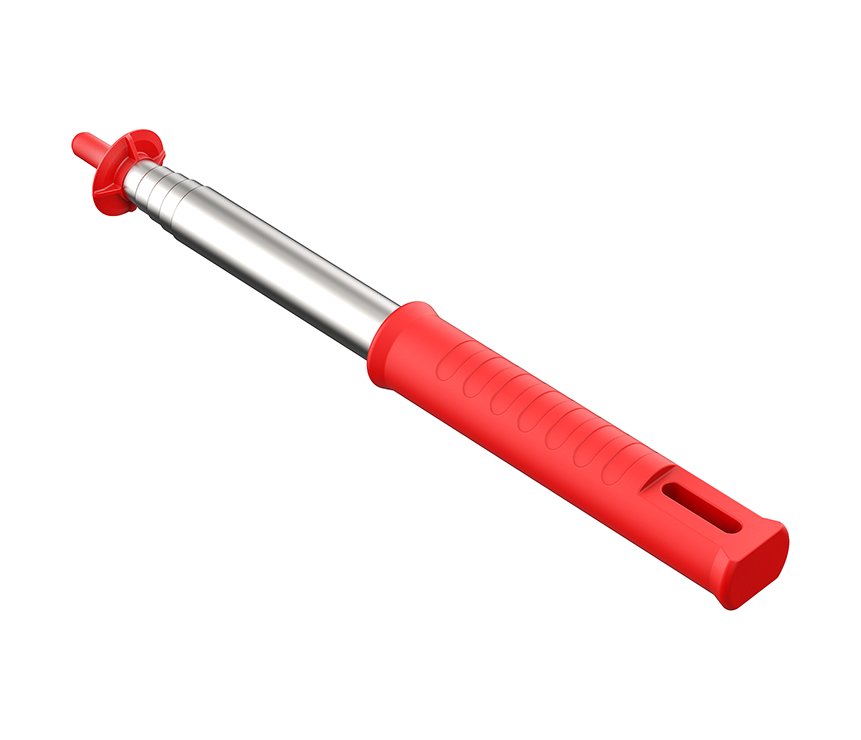 1 Stick Guide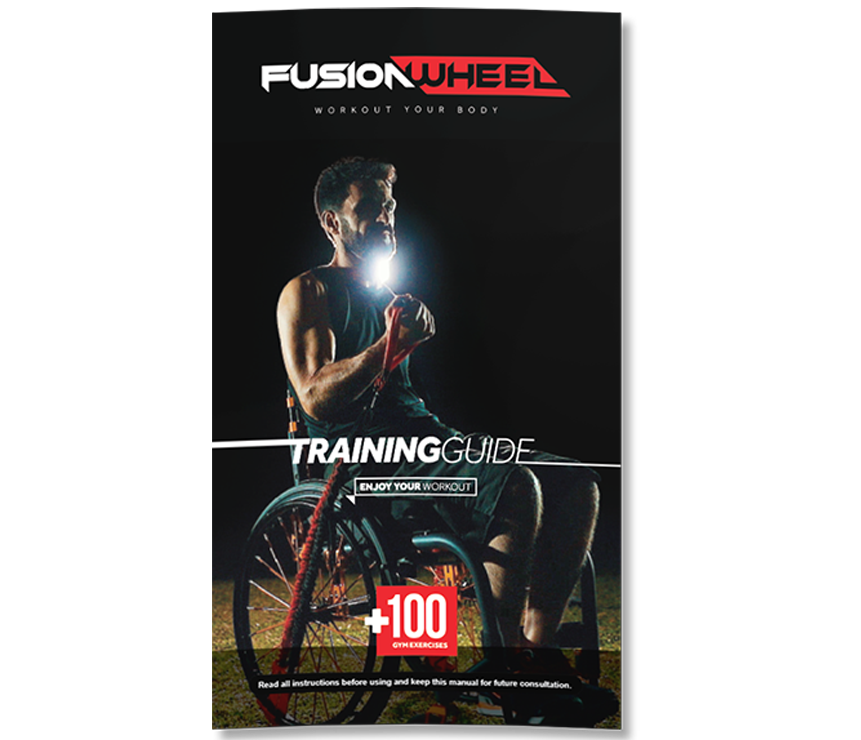 1 Manual/Training Guide
1 Carry Bag

Quick & Easy to Setup
---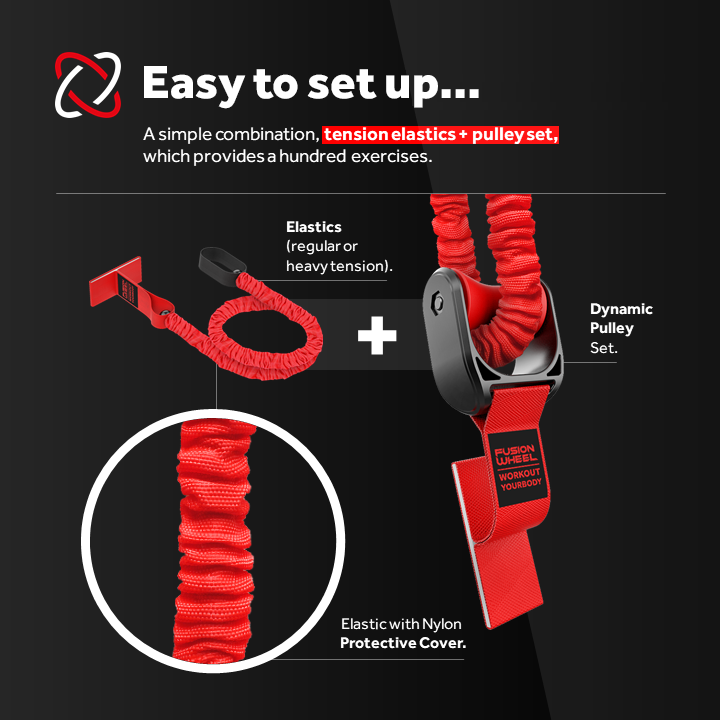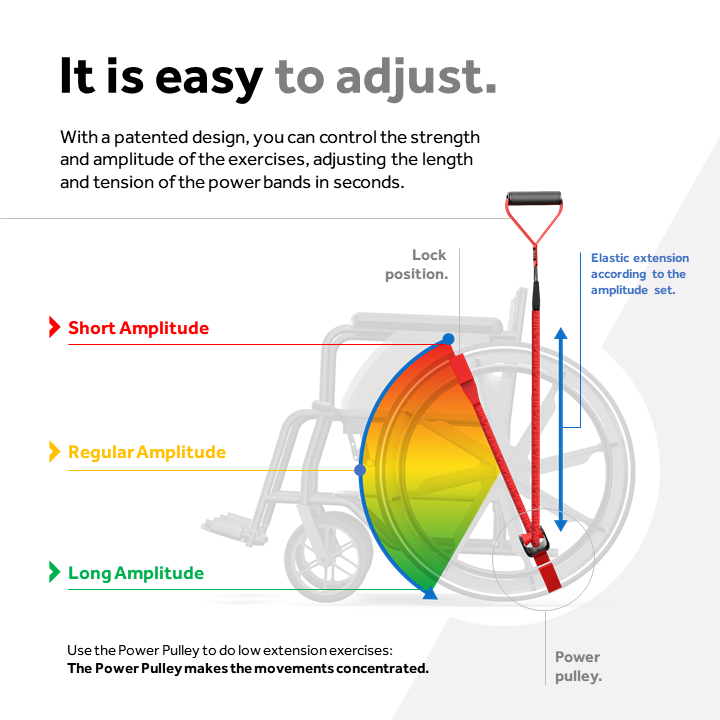 The position between the pulley system and the lock ensure a huge variety of exercises.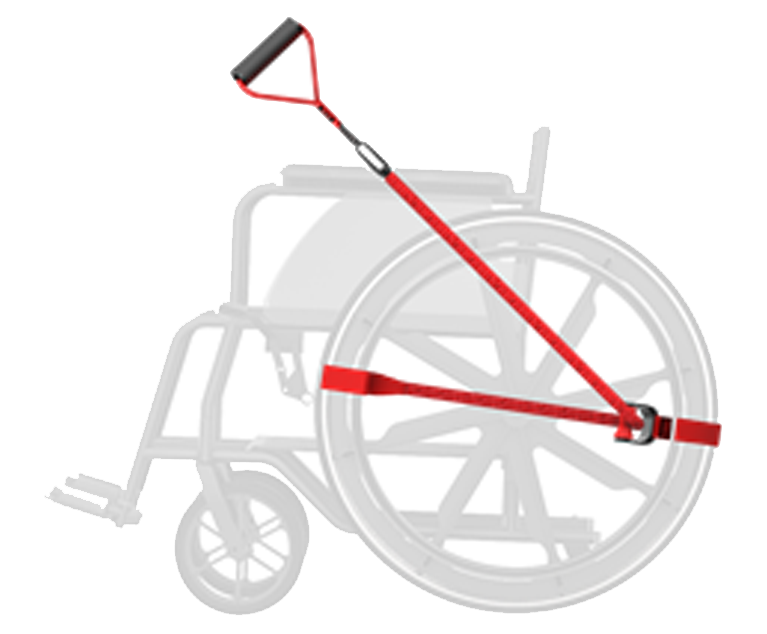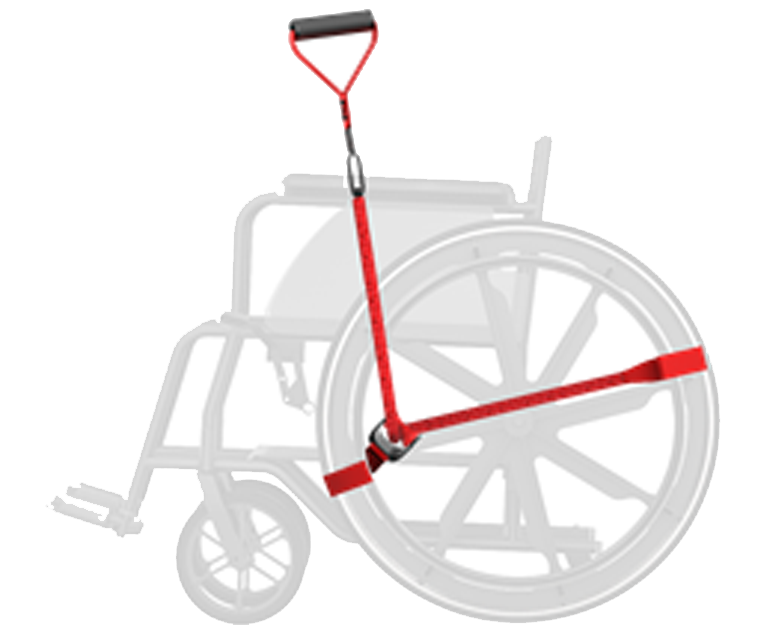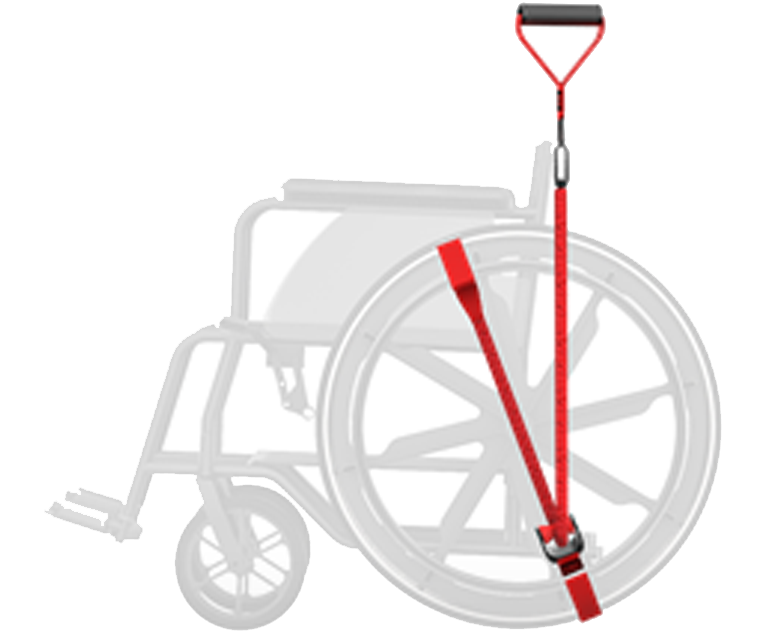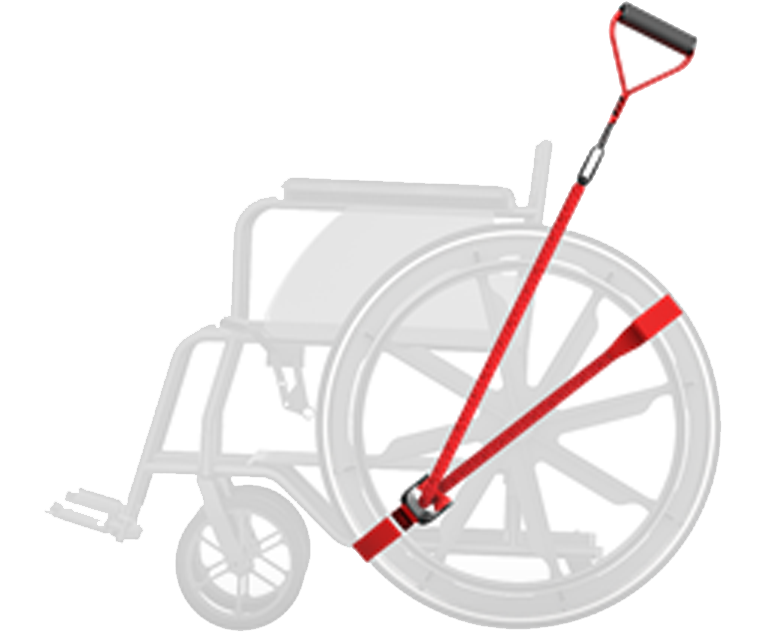 With the 'FUSION BAR' you can make stable isometric movements. With the 'FUSION HANDLES' you can do alternated dynamic movements.
---
Here at Spokz our emphasis is on value for money and customer service. We now offer free standard UK delivery on orders of over £50 to mainland UK and free over £100 to the Scottish Highlands and Islands, Jersey, Guernsey and the Isle of Man.
When delivery is charged, it is our policy to only charge you what it costs us to post and package your item/s. Delivery costs are calculated per order and will be shown at the checkout stage. We use EVRI for our standard delivery which takes 3-5 days to mainland UK and may take longer to other destinations, and DHL for express delivery which is 1-2 days to mainland UK and 2-3 days to the Scottish Highlands and Islands, Jersey, Guernsey and the Isle of Man. 95% of express delivery mainland UK orders arrive the next working day.
All express shipping orders placed before 11.00am will be shipped the same day and will be delivered within 1 to 2 working days
PLEASE CONTACT US BEFORE PURCHASING IF OUTSIDE UK.
Item not arrived?
Most of our items are sent through EVRI and DHL. Generally speaking they will leave a note if they have called to deliver and you were not at home. However, we know of several cases where this has not happened, so please ring your local delivery office first to see whether the item is there.
Please wait for the appropriate delivery time to pass before contacting us about an item which has not arrived.
If your item does not arrive within the specified times then it is our responsibility to find your item. Please contact us so we can track the shipment and make the necessary arrangements with the couriers. When the item is more expensive additional insurance will be included in your price.
Damaged or lost item/s?
If your package arrives damaged or has missing items it is imperative that it is either signed for as damaged or photos are taken of the damaged package. We need the evidence to be able to claim against the couriers and without it we cannot issue a refund or replacement to you.
Desperate for an item?
We try and keep our postage as low as possible by matching EVRI and DHL. Our EXPRESS service is 1-2 days, 95% of these are delivered next day to UK mainland addresses. Please tell us if you need an item desperately and we can offer timed deliveries at an additional charge based on the courier we use at the time.
RETURNS
Not happy with your purchase? No problem...
You have the right to cancel at any time from the moment you place your online order, and up to 14 days from the day you receive your goods. You need to notify us of your wish to cancel your order within this time period and you can do so by using the My Returns section in your account, by email or by phone. You then have a further 14 days from the date you notify us of your cancellation to return the goods. Sorry we cannot refund postage charges on delivery and return of goods, unless they are faulty (see below). Goods must be returned in ORIGINAL, UNUSED condition. Sex products cannot be returned for hygienic reasons.
**TYRES MUST NOT BE FOLDED IN ANY WAY UNLESS THEY ARRIVED WITH YOU LIKE THIS. FOLDED TYRES RETURNED WILL NOT BE REFUNDED AS THEY WILL BE DAMAGED DUE TO THE METAL BEADING BEING TWISTED**
Faulty goods?
If your purchase is faulty or damaged please contact us within 30 days from date of purchase before returning the item. We will send you a "no charge" replacement, postage free. Before we issue a refund or replacement, you will need to return the damaged product to us for assessment. If the product is faulty we will refund your return postage costs.
All products come with a 1 year manufacturers guarantee. Faults MUST be reported within this time otherwise unfortunately we cannot replace the item.
Method of refund?
Spokz will refund your original purchase debit or credit card. Refunds issued will be back in your account in 3-5 working days.
First impressions...
Fusion Wheel is the only portable gym designed exclusively for wheelchair users. It's a full gym that allows you to workout whatever you are. It fits perfectly to your busy life. Fusion Wheel lets you do more than 100 exercises to target all superiors muscle groups: Biceps, triceps, back, shoulders.