Varilite Icon™ Back System Mid
MID THORACIC SUPPORT FOR A LARGE RANGE OF BODY TYPES
Provides support and positioning to improve trunk control and decrease fatigue.
The Icon Back System Mid supports the user to just below the scapula so the back does not interfere with arm movement during propelling or other activities. The Icon Back System Mid shell provides mild lateral support. Secondary supports attach easily if more aggressive support is required. The back features an enhanced rollover cushion to protect the user and for added comfort.
See description below for further info
Documentation
Varilite Icon Brochure (708kb)
Varilite Icon Back Size Chart/Technical Guide (1.31mb)
Varilite Icon Instructions(3.86mb)
Varilite Icon Additional Instructions (501kb)
Varilite Icon Clinical Education (738kb)
PRE ORDER ITEM
To allow us to offer all the sizes/options available, this product comes direct to you from the manufacturers. Please select your options below and press the preorder button to add this to your basket and checkout as normal. We will notify you once your product/s are ready to ship. Express shipping is not available for this item.

ICON™ BACK SYSTEM
featuring VariLock™ hardware
---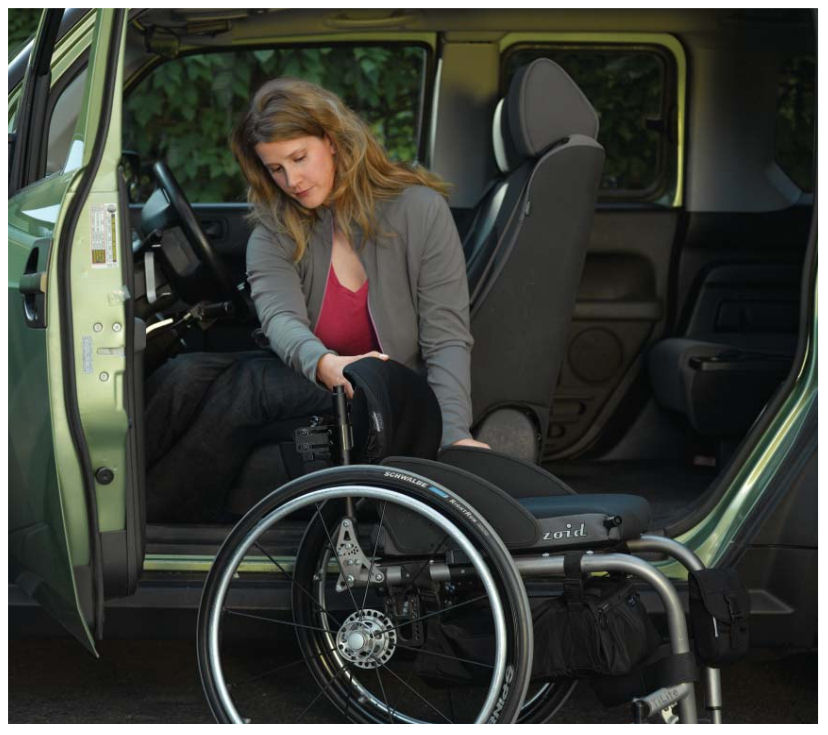 Innovation, Versatility & Comfort
For many wheelchair users, a solid back system is essential for proper positioning. It supports the spine and positions the pelvis. Lateral supports of the back system keep the user stable. The back system provides a mounting structure for headrests, thoracic supports, chest harnesses and hip belts. Pads, blocks or other positioning accessories that attach to the back help accommodate kyphosis, scoliosis, abnormal tone and other conditions.
Proper positioning and postural support are essential for the health and well-being of wheelchair users. Respiration, digestion, swallowing and pain management all improve when the trunk is supported. Allowing greater participation in Activities of Daily Living, the right back system enhances the wheelchair user's overall comfort and their ability to interact socially.
Wheelchair sling upholstery often is inadequate for proper positioning and postural support. Selecting the right solid back system is one of the most important decisions to be made when completing setup of the wheelchair.
Designed with the user, clinician, technician and caregiver in mind, the Icon Back System provides the best solution for those who demand fast installation, adjustment versatility and simple operation. The Icon Back System is available in a wide variety of styles and sizes, each with our VariLock hardware and an adjustable VARILITE air-foam floatation cushion for superior comfort.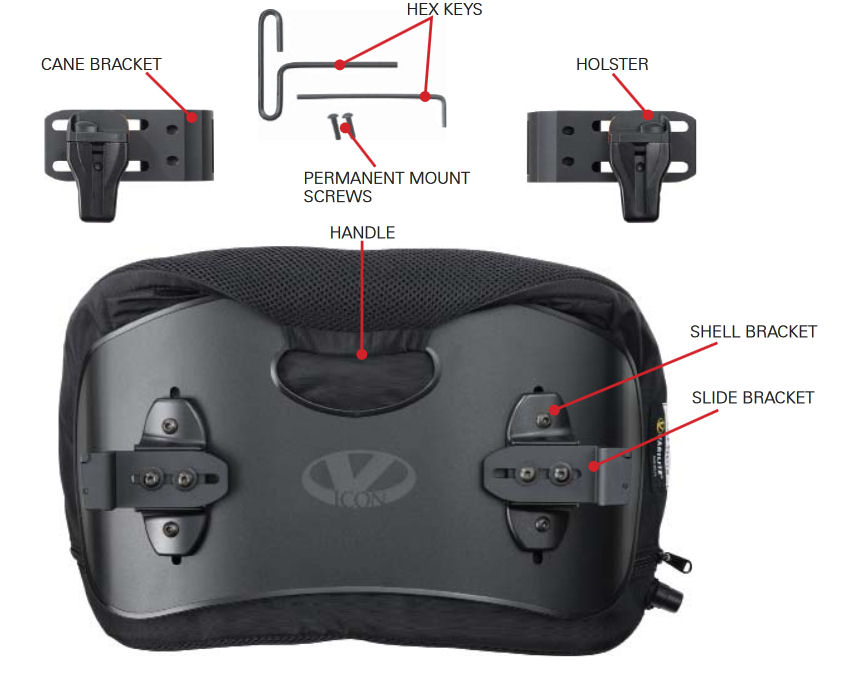 Simplicity & Ease of Use
The Icon Back System installs quickly and easily on a wheelchair. Only two components need to be attached to the wheelchair—all others are pre-installed. Even better, all adjustment screws are the same size and only a single tool is needed. (The Integrated Permanent Mount System requires a 3/32 in. hex key (included)).
Our hardware provides a wide range of seat depth adjustment, without the need for special extra-length parts. Posterior seat depth can be increased or anterior depth increased by reversing the hardware components
The Icon Back System is designed for users on the go, and our VariLock hardware makes operation simple and easy. Slide Caps stay in the open position until the back is removed, making it simple to remove the support with one hand or limited dexterity. The hardware guides the back support into position upon insertion and our sliding mechanism makes closure a breeze.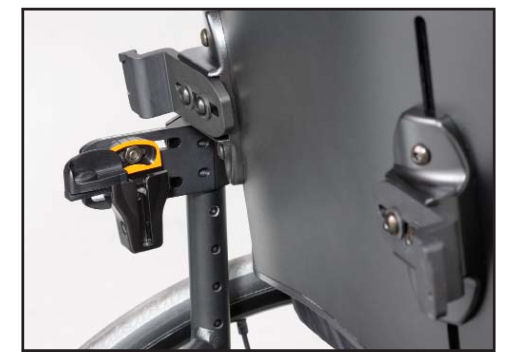 Hardware
---
Secure Adjustability
Angle, depth, width and height adjustments are simple and easy. All adjustment screws are accessible from the rear of the back system and adjustments can be made while the user is seated in the wheelchair. Only one tool is needed (included).
Once adjusted, Icon Back System hardware stays in place. Cane brackets clamp securely and will not slip. The innovative adjuster plate mechanism for recline is positive locking to prevent the back support from moving during Activities of Daily Living.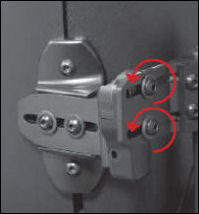 Angle Adjustment
Icon Back System hardware allows for ±20° of angle adjustment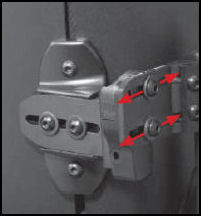 Depth Adjustment
Depth Adjustment - Depth can be adjusted 1.5 in. (4 cm) by moving the Holster along the Cane Bracket.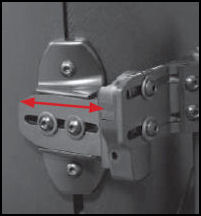 Width Adjustment
Lateral position is adjusted by moving the Slide Brackets. The Slide Brackets adjust up to 1 in. (2.5 cm), making it possible to install on wheelchairs 1 in. (2.5 cm) wider or narrower than the width of the back system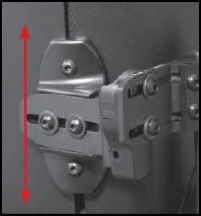 Height Adjustment
Height adjustments can be made by moving the Shell Brackets along the vertical shell slot.
Seat Depth
The Icon Back System provides an excellent amount of seat depth yet also allows for growth by offering four different installation configurations. Changing the configuration is as easy as re-configuring the position of the Cane Brackets and Slide Brackets.
Extra Depth Installation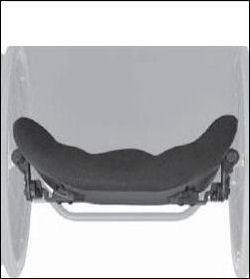 Cane Brackets:
Rearward Position
Slide Brackets:
Rearward Position
Seat Depth:
+1.5 in. (4 cm)Depth from basic installation
Basic Installation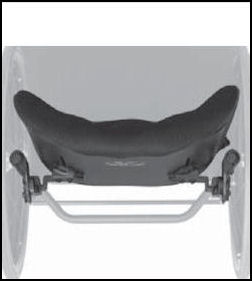 Cane Brackets:
Rearward Position
Slide Brackets:
Forward Position
Seat Depth:
Up to 1.5 in. (4 cm)
Growth Installation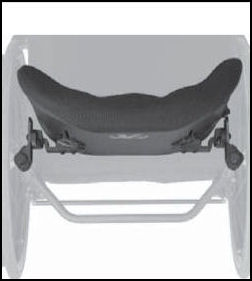 Cane Brackets:
Forward Position
Slide Brackets:
Rearward Position
Seat Depth:
+4 in. (10 cm) depth reduction from basic installation
Extra Growth Installation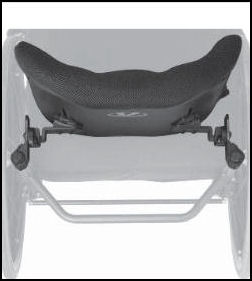 Cane Brackets:
Forward Position
Slide Brackets:
Forward Position
Seat Depth:
+5.5 in. (14 cm) depth reduction from basic installation
Details
---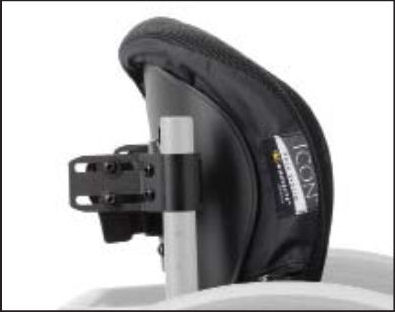 Rollover Cushion
The Icon Back System features an innovative rollover cushion to protect the user from contact with the edge of the shell during extension or weight shifting activities. The cushion is secured inside the cover so it stays in place. The wheelchair user can perform Activities of Daily Living with confidence and in comfort.Low and Mid models include enhanced rollover cushions. Specialised padding in the cover provides extra protection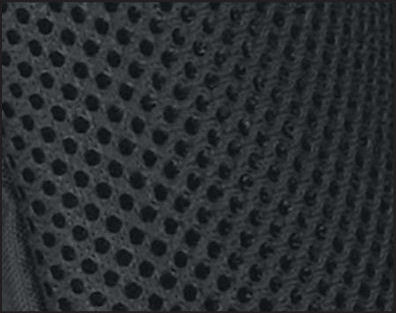 Breathable Fabric
Spacer knit fabric on the outside of the cover increases air-flow between the user and the back support. Reticulated foam sewn under the spacer knit fabric provides additional air exchange plus pressure distribution. The Icon Back System cover meets ISO 7176-16 ignition resistance standard for upholstered wheelchair components. The cover is machine washable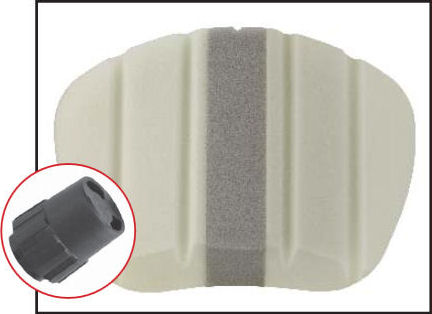 Air & Dual-Stiffness Foam
The Icon Back System incorporates a VARILITE air-foam floatation cushion. Sculpted foam fits the shell contour without bunching. Multi-stiffness foam is thickest along the vertebral column. Soft foam protects the sensitive areas of the spine while firmer foam supports the sides of the trunk. A two-way air valve allows air in and out of the cushion for a custom fit and adjustable comfort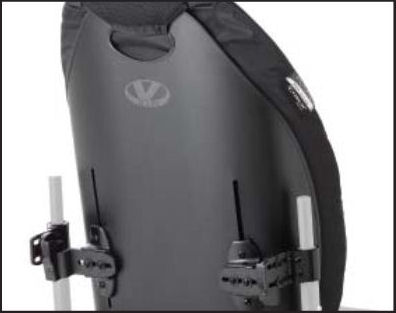 Accessibility
Additional support can be added to the Icon Back System. The vertical slots can be used to attach VARILITE PAL™ Swing-Away Thoracic Supports, or any other secondary supports. The slots also allow the technician to work around stabilizer bars, accessories or obstructions when attaching Icon Back System hardware to the wheelchair
Lateral Supports
---
PAL Swing-Away Lateral Supports
VARILITE PAL Swing-Away Thoracic Supports are designed to complement Mid and Tall models. PAL (Positive Action Lateral) supports allow hinge angle, pad rotation and horizontal pad adjustments for a precise fit. All PAL Swing-Away Lateral Supports include a neoprene protective cover that attaches easily to the PAL push button hinge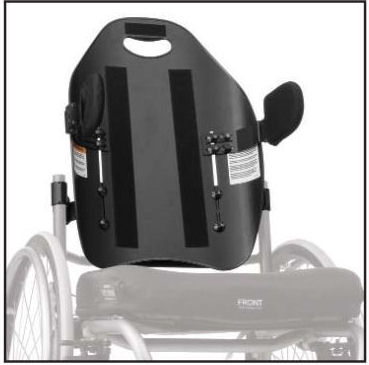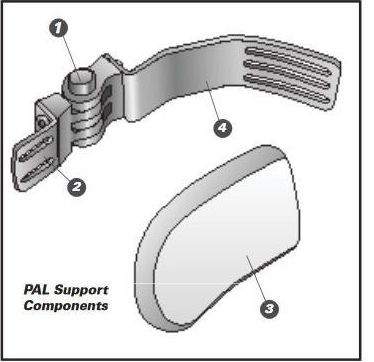 1. Push Button Hinge
Easily activated push button unlocks the PAL swing-away hinge mechanism. Positive Locking Action indicates when the hinge is securely locked. Simple hinge angle adjustment provides up to 225° of swing.
2. Pad Bracket
Constructed of steel for strength, pad bracket attaches securely to the pad. Easy adjustment allows ±10° of vertical pad rotation. Pad brackets are available in short, long and offset sizes.
3. Pad
Pads are available in contoured or linear styles, in three sizes. Closed-cell foam with a steel insert that allows horizontal pad adjustment. Pad foam is protected with a removable, machine washable cover.
4. Shell Bracket
Constructed of steel, the shell bracket is mounted to the inside of the Low or Mid shell. The low profile bracket is less than 1/8 in. (3mm) thick.
Accessories
---
Additional Supports
Users who need extra support for correct positioning can utilize the PSIS Block or Supplemental Lateral Supports attached to the shell of their Icon Back System. The supports can be positioned within the shell using hook and loop. The PSIS Block and Supplemental Lateral Supports can be added as an accessory to the Low, Mid, Tall and Deep models.
PSIS Block
The PSIS (posterior superior iliac spine) Block provides support to the sacrum at the PSIS level, promoting anterior pelvic tilt and spinal extension.
Supplemental Lateral Supports
The Supplemental Lateral Pads help users who lean to one side maintain an upright position.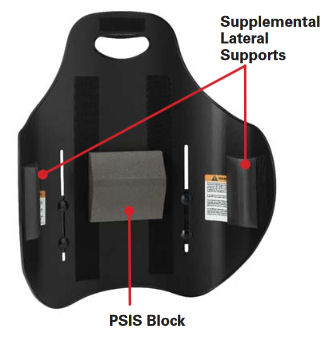 Cushions and Covers
Users needing a backup cushion or cover can purchase the washable spacer knit fabric cover and air-foam cushion separately from the back system. Covers can be purchased as a single item, or with the cushion. Cushions are covered by the 2 year warranty.
Modesty Kits
Users needing extra coverage between the back support and wheelchair seat can purchase a modesty kit that attaches to the shell of the back system and the seat of the wheelchair. Modesty kits provide extra coverage for the user, while appearing integrated into the back support.
Safety
---
Integrated Permanent Mount System
Those who wish to permanently mount their back system can utilise the Integrated Permanent Mount System found on the Holsters. Only two screws are required (included).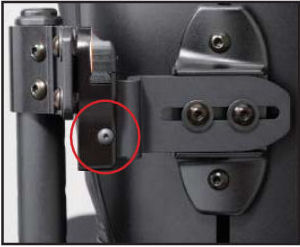 Safety
VariLock Hardware holds the back support securely on the chair. Slide Caps lock securely in place when closed and orange safety markings alert the user or caregiver when the Slide Caps are open.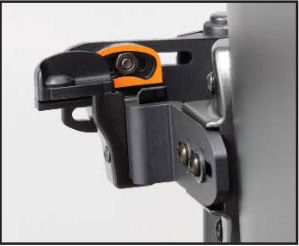 Resistance to Flammability
Flammability testing has been performed on Icon Back System cushions and covers by an independent laboratory according to the requirements of ISO 7176-16 standard for resistance to ignition of wheelchair upholstered parts. The ISO standard specifies requirements and test methods to assess the resistance of the cover and cushion to ignition by cigarette and match. Icon Back System cushions and covers meet ISO 7176-16 standard.
Crash-Tested
VARILITE product development supports industry safety initiatives. Icon Back Systems have been dynamically tested for safe use in motor vehicles by an independent transportation center. Icon Back System Tall and Icon Back System Deep have been tested and meet the requirements of ANSI WC20/Vol 4 and conform with ISO 16840-4 for the safe use of seating devices for use in motor vehicles when used with a wheelchair base that complies with the performance requirements of ANSI WC 19 or ISO 7176-19.
For more information about the safe use of wheelchairs in a motor vehicle, please visit www.varilite.com to download the RideSafe Brochure.

Cushion Composition: Air-Foam Floatation
Hardware Composition: Metal
Hardware Type: VariLock™
Cover: Mesh
Maintenance: Once a week, allow your VARILITE cushion to fully inflate overnight with all valves open.
Warranty: 2 Years, excluding cushion cover
Shell Composition: Aluminum
Valve: Standard
User Weight: 300 lbs. (400lbs on 22" and 24")
FREE DELIVERY
3-5 day delivery only
Shell Height (Rollover cushion may add up to 1.5 in.): 12" - 9.7" 14" - 11.2" 15" - 12" 16" - 12.7" 17" - 13.5" 18" - 14.25" 20" - 15.75" 22" - 15.75" 24" - 15.75"
Delivery
Mainland UK
Here at Spokz our emphasis is on value for money and customer service. We now offer free tracked Express UK delivery with DHL on orders of over £50 to mainland UK. Any orders under £50 will be charged £5.50 for our DHL next day service or for smaller items you can choose £1.75 Royal Mail 1st Class.
All pre-order items are delivered free of charge to any destination apart from international orders.
When delivery is charged, it is our policy to only charge you what it costs us to post and package your item/s. Delivery costs are calculated per order and your delivery options will be shown prior to checkout. We use DHL for our standard deliveries which takes 1-2 working days to mainland UK. The vast majority of our DHL deliveries to mainland UK addresses arrive the next working day. With our smaller items we give you the option of using Royal Mail 1st Class and this can be selected at the checkout.
With orders shipped with DHL you will receive an email with tracking details and the option to divert your parcel to an alternative local address or to a DHL collection point.
Highlands, Islands & Northern Ireland
Deliveries to the Scottish Highlands and Islands, Northern Ireland, Isle of Wight, Jersey, Guernsey and the Isle of Man will incur a delivery charge. Unfortunately this is beyond our control as the majority of shipping companies now charge extra to these areas. However, we discount the delivery charge by the standard amount of £5.50 that we offer to our mainland UK customers if you spend over £50. Deliveries to these areas will take 2-3 working days.
The following postcodes will incur a delivery charge of £14.50 if the value of the order is under £50, and £9 if over £50:
AB31-38, AB40-56, IV1-40, IV52-54, IV63, KW1-14, PA21-38, PH4-41, PH49, PH50, BT1-94
The following postcodes will incur a delivery charge of £16.50 if the value of the order is under £50, and £11 if over £50:
GY1-10, HS1-9, IV41-49, IV51, IV55-56, JE1-4, KA27-28, KW15-17, PA20, PA41-49, PA60-78, PH42-44, ZE1-3, TR21-25, IM1-9, PO30-41.
All orders placed before 11.00am will be shipped the same day and will be delivered within 1 to 2 working days to mainland UK and 2-3 days to the postcodes listed above. This excludes any pre-order items.
International Shipping
We can happily ship the majority of our items anywhere in the world. If you are from an international destination then please send us an email to [email protected] with the items you would like to order and your full address and we can get you a price for shipping.
Item not arrived?
Please wait for the DHL estimated delivery time on your tracking to pass before contacting us about an item which has not arrived. If your order has been shipped with Royal Mail you will need to allow 15 days for your parcel to arrive before we can take any action with Royal Mail. Unfortunately this is their policy.
If your item does not arrive within the specified times then it is our responsibility to find your item. Please contact us so we can track the shipment and make the necessary arrangements with the couriers.
Damaged or lost item/s?
If your package arrives damaged or has missing items it is imperative that it is either signed for as damaged or photos are taken of the damaged package. We need the evidence to be able to claim against the couriers and without it we cannot issue a refund or replacement to you.
Returns
Not happy with your purchase? No problem...
You have the right to cancel at any time from the moment you place your online order, and up to 14 days from the day you receive your goods. You need to notify us of your wish to cancel your order within this time period and you can do so by using the My Returns section in your account, by email or by phone. You then have a further 14 days from the date you notify us of your cancellation to return the goods. Sorry we cannot refund postage charges on delivery and return of goods, unless they are faulty (see below). Goods must be returned in ORIGINAL, UNUSED condition. Sex products cannot be returned for hygienic reasons.
**TYRES MUST NOT BE FOLDED IN ANY WAY UNLESS THEY ARRIVED WITH YOU LIKE THIS. FOLDED TYRES RETURNED WILL NOT BE REFUNDED AS THEY WILL BE DAMAGED DUE TO THE METAL BEADING BEING TWISTED**
Faulty goods?
If your purchase is faulty or damaged please contact us within 30 days from date of purchase before returning the item. We will send you a "no charge" replacement, postage free. Before we issue a refund or replacement, you will need to return the damaged product to us for assessment. If the product is faulty we will refund your return postage costs.
All products come with a 1 year manufacturers guarantee. Faults MUST be reported within this time otherwise unfortunately we cannot replace the item.
Method of refund?
Spokz will refund your original purchase debit or credit card. Refunds issued will be back in your account in 3-5 working days.
First impressions...
Varilite
Icon Back System with VariLock Hardware- Installation