Progeo Joker R2 Lightweight Wheelchair
Progeo Joker R2 is a very special version and new addition to the Progeo Joker family, designed to give maximum resistance and lightness.
Fully adjustable
Available in Aluminium or Carbon Fibre
New AIR backrest (optional)
Use the button below to ask us any questions you have or to arrange a no obligation demo.
Availability: In stock
Excl. VAT:
£2,800.00
Incl. VAT:
£3,360.00
Product Description
Details

Adjustable & Lightweight...
Aggressive use of design, foremost in the lines and tubes of the front frame, Joker R2 combines extreme lightness while maintaining ample adjustments for that 'dialled-in' feel.
Like it Snug?
Front frame adduction provides improved lower leg support with a one-piece aluminium tubular footplate, non adjustable aluminium or plastic footplate in standard configuration with rake & depth adjustable aluminium or rake adjustable carbon options available.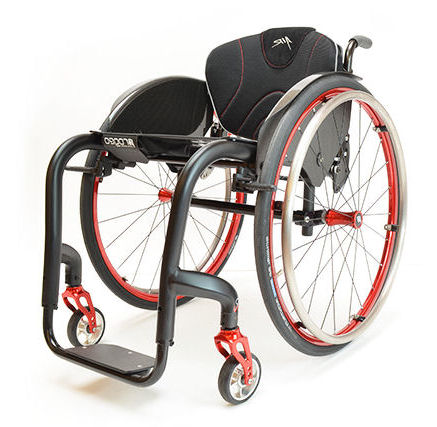 Joker R2 - Front frame with adduction for better leg support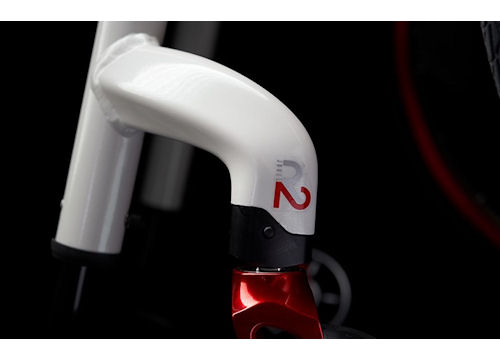 Joker R2 with Wider front frame
incorporating a one-piece tubular footplate to enhance the overall rigidness
Hydroforming Technology
The innovative fork support, welded to the adducted frame, offers a blended, distinctive and individual design. Manufactured using the latest hydroforming technology and complimented with a precise and easy to adjust "Push-Pull & Fix" axle adjustment system .


Simplicity and effectiveness
Simple sliding system provides ample adjustment of rear seat height/dump and balance point
Rear wheel axle bar is welded to the wheel recievers, enhancing the overall strength and rigidness.
Carbon fibre mudguards as standard.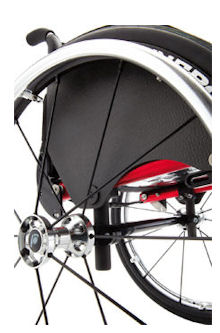 Wide range of adjustment.
With sliding system for rear height setting.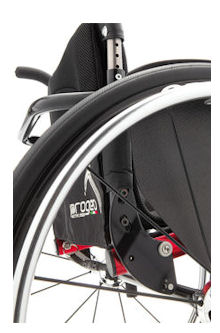 Height and angle adjustable backrest.
Locks when in the folded position, too.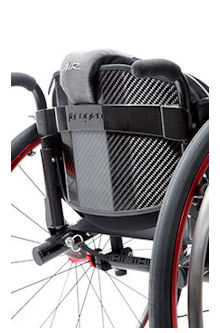 Carbon fibre AIR backrest (optional).
Approximately keeps the weight characteristics of the standard upholstery and allows all adjustments for an optimal posture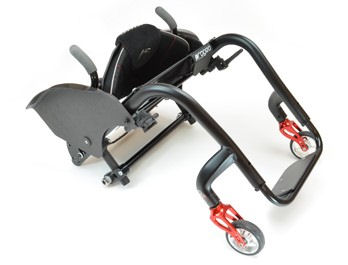 Minimum encumbrance without rear wheels and folded backrest.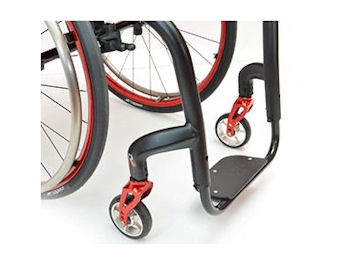 Height adjustable footplate
Specifications
Seat width
33 - 36 - 39
42 - 45 - 48cm

Backrest Height
From 24.5 to 47cm
Adjustable

Backrest Angle
From 74° to 94° to the seat
Adjustable

Seat Depth
35 - 37.5 - 40 - 42.5
45 - 47.5 - 50cm

Front Frame Angle
Alumin. 90°

Camber
0° 2° 4°

Seat Height
Front from 44 to 53cm
Rear from 36 to 47cm
Adjustable

Total Length
88cm approx.
(std conf.)

Wheelchair Weight
Starting from 9kg approx.

Footplate Distance
From 35 to 49cm
Adjustable

Total Width
Seat width + 17cm
(with 0° camber)

Weight
(without rear wheels)
Starting from 6kg approx.

Maximum load
125 kg
Colour Options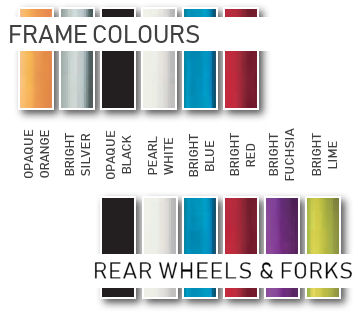 Characteristics
Characteristics
Fully adjustable
Available in Aluminium or Carbon Fibre
Removable side guards as standard
New AIR backrest (optional)
Reviews
Customer Reviews (1)
Progeo joker R2

First progeo I've owned
Only had it 4days and it's so far brilliant chair
Great adjustments to get it how you want
Feels great out and about,even been fishing
Great service from Spokz could be more helpful
Thanks

(Posted on 08/06/2019)
First impressions...
Progeo Joker R2
Manufactured using the latest hydroforming technology, the Joker R2 is at the forefront of wheelchair design.
The combination of extreme lightness and adjustability make the R2 an impressive choice.