Mens Slim Fit Jeans - Magnetic Fly
The biggest feature of our jeans if by far the fit. The jeans are made for sitting. It is their main purpose. This means more than adding material 'higher up the back'. The Jeans have an oval waistline when the fly is closed, a strong curve in the mid and side seams to prevent tension on the abdominals. This saves energy and your intestines. The jeans excel in comfort, fit, performance & looks. 'Seated' Jeans as they should be.
For the magnetic closure, we choose Fidlock®. The hook and loop fastener is of the highest quality, made by Binder Corp. The loop is a soft feeling velour that opens & closes softly without noise or hassle.
Slim Fit. A regular waist that quickly transfers to a narrow leg width.
See description below for further details. Return restrictions apply, see returns policy for details.
Size Guide
Sizes in cm
| | | | | | | | | | | |
| --- | --- | --- | --- | --- | --- | --- | --- | --- | --- | --- |
| | 26 | 28 | 29 | 30 | 31 | 32 | 33 | 34 | 36 | 38 |
| Waist | 69 | 74 | 76.5 | 79 | 81.5 | 84 | 86 | 89 | 94 | 99.5 |
| Hip | 83 | 88 | 90.5 | 93 | 95.5 | 98 | 100.5 | 103 | 108 | 113 |
Estimated Delivery Date
Please allow 3-5 working days for delivery. Express shipping not available on this product.
Availability: In stock
Excl. VAT:
£100.00
Incl. VAT:
£120.00
Product Description
Details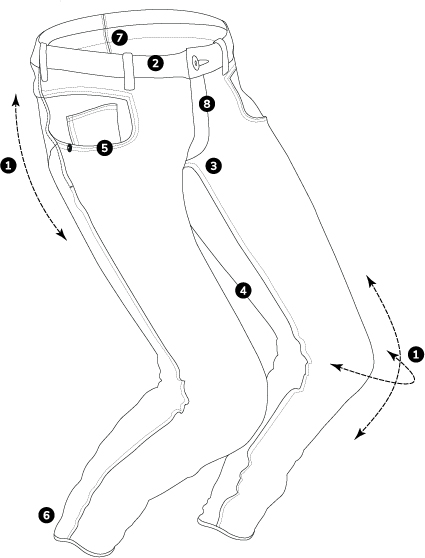 Style and Substance
The Jeans are made with double stretch denim. Stretch in the length reduces friction on the skin. Length stretch also makes it easy to adjust the length of the jeans. Just pull them down to the needed length.


The oval shape of the waist give the jeans a much bigger entrance to get them on.


The fly is positioned as low as possible. Opening the jeans creates more space if you need to perform actions in the crotch area.


The legs have an extreme 'Fork' fit, our cut is made for users with the knees together. Jeans made to ride a chair, not a horse.


The jeans pockets can be reached and used from a seated position.


More length on the backside of the ankle cuff ensure our jeans cover the ankles properly.


The backside of our jeans is kept as flat as workable. With our focus on a slick backside it's obvious that our jeans have no back pockets.


Besides the regular 'button fly', our jeans are available with a magnetic & hook and loop closure. Quite handy. The loop is of a soft feeling velour that opens & closes softly without noise or hassle.


What's not in our jeans are multiple (side) zippers, elastic webbings or bungee ropes. They would only make up for an inadequate fit. This special produced fabric has the unique specification to stretch in length and width. The length stretch makes the jeans comfortable for a seated posture. It reduces friction on the skin and ensures a better fit.
Malibu Double Stretch: This is an 11,5 oz royal blue indigo denim with 2% Lycra. It has a light blue easy worn finish. Garupa Double Stretch: This is an 11,5 oz super black denim fabric with 3% Lycra. It has a dark grey base with an easy worn finish.
Reviews